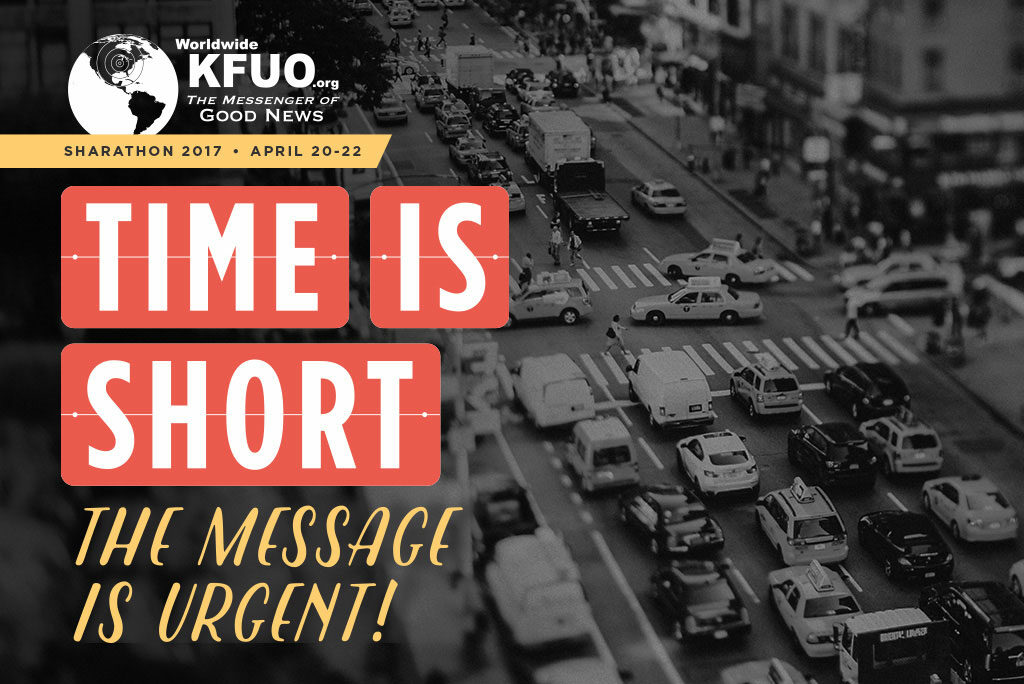 KFUO — the official radio ministry of The Lutheran Church—Missouri Synod and the longest continually operating Christian radio station in the country — has come a long way since its initial broadcast in 1924.
Today its programs are accessible worldwide, via the Internet, at KFUO.org — reaching into all 50 U.S. states and more than 70 countries. Each month, statistics show some 500,000 live-stream listeners and about 100,000 downloads of programming from the website — not exactly "small potatoes."
Addressing the station's global mission, Gary Duncan, its executive director of Broadcast Services, quotes Mark 16:15: "And he said to them, 'Go into all the world and proclaim the gospel to the whole creation.'
"That's what we do every day through our radio ministry," Duncan says, and he asks Synod Lutherans: "Is that worldwide proclamation of the Good News important to you?"
If it is, he adds, "please prayerfully consider supporting Worldwide KFUO during our 'Sharathon.' "
The station's annual — and main — fundraiser, Sharathon, is set for Thursday, April 20, from 7 a.m. to 5 p.m. (all times listed are in the Central time zone); Friday, April 21, from 7 a.m. to 5 p.m.; and Saturday, April 22, from 7 a.m. to noon.
Its theme is "Time is short, the message is urgent!"
"Our time on earth is short," explains Duncan. "We're just a heartbeat away from eternity," making proclamation of the Good News of salvation to all people worldwide "extremely urgent."
Gifts to the Sharathon, he notes, "will help Worldwide KFUO Radio broadcast the message of Christ to the world."
Among the station's dozen or so regular offerings are devotions, Bible studies, family and young-adult programming, faith-sharing ideas, sacred music, interviews with missionaries about their ministries and with special guests on timely topics, and live webcasts of Sunday-morning worship services (at 8 and 10:45 a.m.) from Synod churches.
KFUO's newest program, "Let's Talk! The Pastor Is In" — which airs from 2 to 3 p.m. every Friday — encourages listeners to ask questions that are answered by guest LCMS pastors. Recent programs addressed questions such as "Is body donation and cremation forbidden for Christians?" and "Will we have pets in heaven?" Questions may be submitted via email at kfuo@kfuo.org or during the program, live, by phone, at 800-730-2727.
All of the KFUO-produced talk programs heard on the air are recorded and archived on the KFUO.org website and accessible 24 hours a day, notes Mary Schmidt, the station's manager of development. So links to favorite programs can easily be shared via email with family and friends.
And because KFUO.org is a "listener-supported" station and receives no other major funding, financial gifts are vital — and deeply appreciated — both during the Sharathon and year-round, Schmidt said
This year's Sharathon programming will feature special guests as well as thank-you incentives that will be offered to those who make contributions to the ministry.
Among on-air guests will be LCMS President Rev. Dr. Matthew C. Harrison and Senior Assistant to the President Rev. Dr. Jon Vieker; LCMS Missouri District President Rev. Dr. R. Lee Hagan; regular listeners; and KFUO on-air personalities and behind-the-scenes staff.
Donors to Sharathon 2017 will receive special thank-you gifts:
a KFUO keychain flashlight to those who contribute $120.
a black KFUO long-sleeve, button-up shirt for a $240 gift.
a KFUO "Day Sponsorship," which gives those who contribute $480 an opportunity to recognize someone over the radio in honor of a graduation, confirmation, birthday, anniversary or "in remembrance." A message composed by the donor is read on the air five times on the specific date he or she chooses.
a KFUO cargo cooler bag (for a $600 donation).
a KFUO 20-oz. insulated tumbler (with a $1,200 contribution).
To double the impact, each contribution to the Sharathon 2017 will be matched — up to $20,000 total — by an anonymous donor.
To hear live Sharathon programming, visit kfuo.org during Sharathon hours (listed above). Contributions may be given over the phone at 800-730-2727 or, if calling from the St. Louis area, at 314-821-0850.
To support KFUO.org — "The Messenger of Good News" — via a secure online form, click here.
Posted April 17, 2017