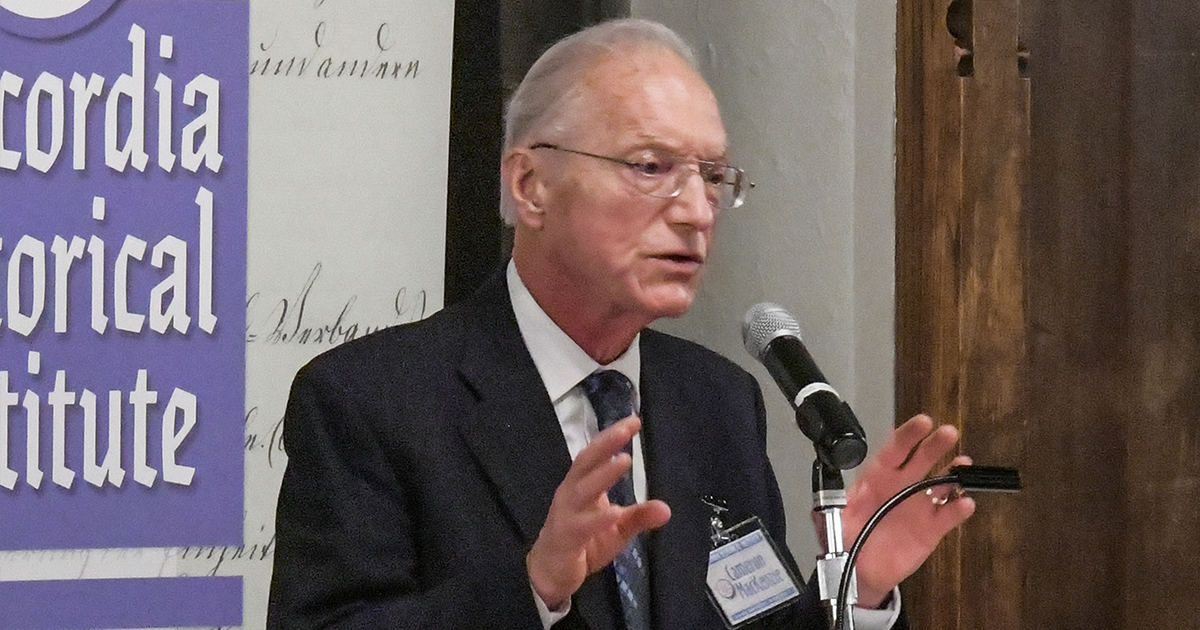 During its 44th annual banquet on Nov. 8 at Concordia Seminary, St. Louis, the Awards Committee of Concordia Historical Institute (CHI), chaired by LCMS Foundation President David Fiedler, presented 18 "Awards of Commendation" for works published in 2017. CHI is the Department of Archives and History of The Lutheran Church—Missouri Synod (LCMS) and the largest archive of Lutheran history in North America.
The Rev. Dr. Cameron A. MacKenzie, the Forest E. and Frances H. Ellis Professor of Historical Theology, chairman of Historical Theology at Concordia Theological Seminary, Fort Wayne, Ind., and member of Concordia Historical Institute's Board of Governors since 2007, served as banquet speaker. MacKenzie presented his essay, "Back to Basics," the text of which will be published in the Winter 2018 issue of the Concordia Historical Institute Quarterly.
CHI Executive Director Rev. Dr. Daniel N. Harmelink said, "Dr. MacKenzie reminded all of us of the unique, faith-inspired perspective we have on the history of the Christian church. Not only God's providence but also his grace and mercy in Christ is to be seen and acknowledged in our chronicling of the church's history."
The following works, listed by category, were commended by CHI for their contributions to the history of the Lutheran church in North America:
Family history award
Crone, John C. Records and Remembrances of the Adjoining Cemetery at Saint John's Lutheran Church, Winchester – Frederick County, Virginia.  
Natzke, Royal, ed. Michael Natzke, Bertha Wilke and Descendants, as Remembered by Their Descendants.
Biography award
Baepler, Richard. Keeper of the Dream.
Biebert, Nathaniel J. "Johannes Strieter, Raconteur of Past Reminiscences."
Historic preservation award
Klausmeier, Robert, et al. Emmanuel 150: Thus Far the Lord Has Helped Us.
Major publication award
Leaver, Robin A. The Whole Church Sings: Congregational Singing in Luther's Wittenberg.
Pihkala, Panu. Early Ecotheology and Joseph Sittler. 
Springer, Carl P. E. Cicero in Heaven: The Roman Rhetor and Luther's Reformation.
Walther, C. F. W. American-Lutheran Pastoral Theology. Ed. by David W. Loy and tr. by Christian C. Tiews.
Journal article award
Beibert, Nathaniel J. "Johannes Strieter, Raconteur of Past Reminiscences."
Hellwege, John P., Jr. "American Lutherans and Pre-World War II Germany."
Jacobson, Thomas E. "A History and Examination of the Danish Lutheran Utah Mission: A Response to the Mormon Scandinavian Mission, 1849-1959."
Peterson, Mark Edwin. "German Readers and the Formation of the Henkel Press in Virginia."
Rast, Lawrence R., Jr. "Reflections on the Effects of the Reformation in American Lutheranism."
Strasburg, James. "Reviving the Heartland: American Lutherans, Postwar Internationalism, and the Crisis of Germany, 1940–1949."
Reference book award
Wengert, Timothy J., ed. Dictionary of Luther and the Lutheran Traditions.
Institutional history award
Stevens, Robert Allan. Anticipation Exceeded Realization: Saga of an Antebellum College.
Related publication award
Hawley, George. Demography, Culture, and the Decline of America's Christian Denominations.
Journal issue award
Aaron Moldenhauer. "Lutheran Triumphalism." Logia.
Director's award
Edelmann, Helmut. Brüderporträtbuch der Pastoren für Amerika des Evangelisch-Lutherischen Amerikaseminars Breklum., Das Evangelisch-Lutherische Predigerseminar der Pastoren für Amerika 1882 bis 1931: Beiträge zum "Amerikaseminar" Breklum., and Dem Glauben ein Gesicht geben: Lutherisch? Lutheran?
The CHI Awards Committee also noted 12 "Honorable Mentions."
CHI encourages submissions published in 2018 for consideration by its Awards Committee. Please email suggestions to tzittlow@lutheranhistory.org. The deadline for submissions is Feb. 1.
This year's awards program was made possible by the generous support of the LCMS Foundation.
For more information about CHI, including a complete listing of 44 years of CHI awards, visit concordiahistoricalinstitute.org.
Posted Jan. 8, 2019