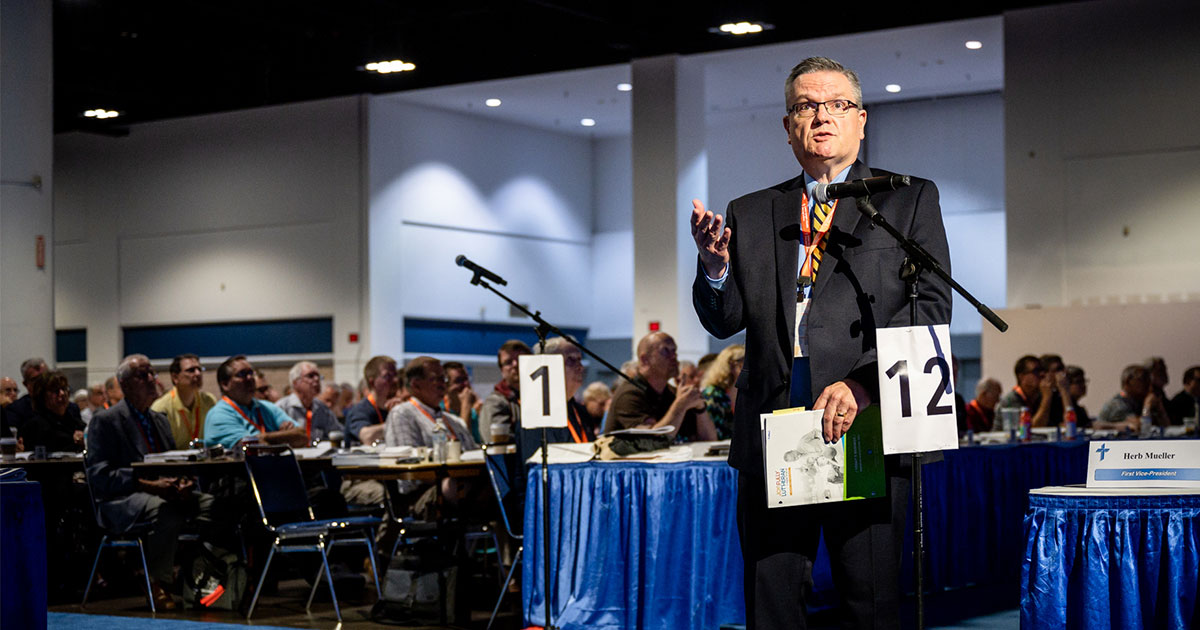 By Stacey Egger
TAMPA, Fla. — On Wednesday, June 24, at the 67th Regular Convention of The Lutheran Church—Missouri Synod (LCMS), Floor Committee 8 on Finance presented three resolutions which were passed by wide majorities.
Support for seminaries
The committee brought Res. 8-01, "To Encourage Congregations to Support Pastoral Formation," to the floor first.
The resolution encourages congregations to take special thank-offerings on the occasion of their pastors' ordinations to support the LCMS Joint Seminary Fund or the seminary of their choice.
In response to a suggested amendment to strike mention of the Joint Seminary Fund due to concern about "overhead costs," LCMS Chief Mission Officer Rev. Kevin Robson counseled the body that current LCMS Mission Advancement fundraising overhead expenses for the Joint Seminary Fund are, per LCMS Board of Directors policy, 12 cents on each dollar raised — "quite low" by current U.S. charitable enterprise fundraising standards. The amendment failed, and the original resolution was passed with 94.4 percent of the vote.
Encouragement of '1.1.1' offering model
Resolution 8-02 encourages congregations across the Synod to adopt a "1.1.1" funding model for special mission funding. This model encourages every member to give one extra dollar per week in offering, specifically to support mission endeavors.
This resolution comes from an overture originally proposed by the LCMS English District, which adopted a similar districtwide initiative at its 2018 convention and has seen great success with it in congregations.
As the resolution states, "$52 per baptized member would make a significant mission impact."
Resolution 8-02 passed with 85.7 percent of the vote.
Financial transparency
Lastly, Floor Committee 8 brought Res. 8-03, "To Ensure Timely and Transparent Financial Reporting in the Synod," to the floor.
This resolution, which commended the Synod and its chief financial officer for the "current and improving transparency" of Synodwide finances, encouraged further "timely and transparent reporting" from the various agencies of the Synod.
The resolution passed with 97.4 percent of the vote.
Posted July 24, 2019
---
The 67th Regular Convention of The Lutheran Church—Missouri Synod met July 20–25 in Tampa, Fla., at the Tampa Convention Center under the theme "Joy:fully Lutheran." For more convention news:
Watch archives
• lcms.org/convention/livestream
Read
Listen
• kfuo.org
Receive email updates