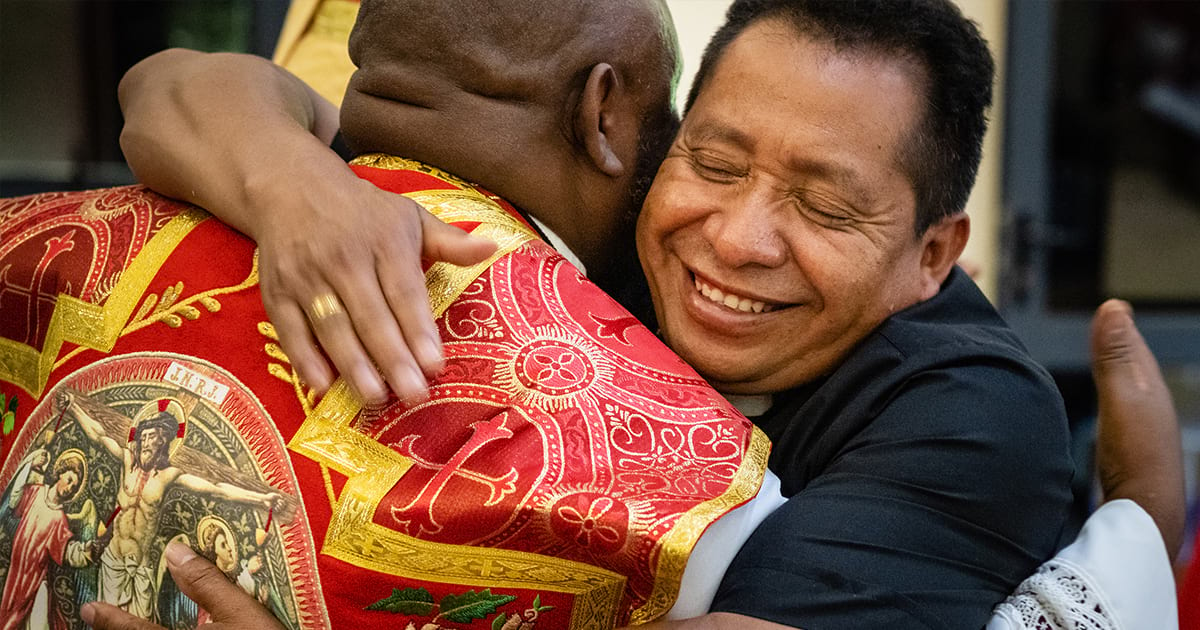 In 2022, as in years past, God showed his faithfulness through the generosity of many in The Lutheran Church—Missouri Synod (LCMS).
In 2022, generous disciples of Jesus sent and sustained more than 100 missionary families serving around the world, brought relief to the suffering in the wake of war and disasters, and provided scholarships to international students at both LCMS seminaries. Yet these three examples only hint at the hundreds of Gospel-proclamation efforts made possible because God's people voluntarily chose to give. 
The LCMS offers one giving opportunity wherein any contributor can help accomplish all the efforts mentioned above, and more.
An undesignated gift to the LCMS — a "Together as Synod" gift — enhances domestic and international efforts to witness, show mercy to others and live life together as children of God. Undesignated "Together as Synod" gifts are both flexible and cost-effective. As 2022 comes to an end, the LCMS invites those whom God has put into a position to give to consider supplying a year-end "Together as Synod" gift.
Year-end gifts can be completed:
By mail
Please make your check payable to the LCMS. In the memo line, write "Together as Synod" or "Unrestricted." If you prefer to give a designated gift for something more specific, the memo line should be used to restrict the use of your donation (e.g., Global Mission Fund, Joint Seminary Fund, name of a missionary, etc.).
Envelopes should be addressed to The Lutheran Church—Missouri Synod, P.O. Box 66861, St. Louis, MO 63166-6861. The envelope must be postmarked by the U.S. Postal Service no later than Dec. 31 to count as a 2022 charitable gift, so you are encouraged to walk your donation into the post office and witness the postmark being applied. Please do not send hard currency such as bills, coins or money orders through the postal system.
By phone
The LCMS Mission Advancement Contributor Care Line will be staffed to accept credit and debit card donations by phone at 888-930-4438. We can accept gifts by phone until 2 p.m. CST on Dec. 31.
Online
To be 2022-eligible, online gifts can be made with a credit card until Dec. 31 at 11:59:59 p.m. CST. Visit lcms.org/givenow to search for and select your special gift option.
By text message
Make your "Together as Synod" gift using your credit card or PayPal account by texting STRONGTOGETHER to 41444. Eligible gifts can be made through Dec. 31 at 11:59:59 p.m. CST.
To donate appreciated or depreciated securities or other non-cash assets, please contact Sue Sehrt at the LCMS Foundation at 800-325-7912. The process can take several days, so initiating a gift early is important in order for it to be a 2022 deductible gift.
Via IRA-qualified charitable distributions
For those eligible to give from an Individual Retirement Account in a way that satisfies the Required Minimum Distribution (RMD) requirements while treating the donation as non-taxable income, please contact either LCMS Mission Advancement's Contributor Care Line (888-930-4438) or the LCMS Foundation (800-325-7912). Special instructions are needed to ensure a good giving experience.
Posted Nov. 30, 2022