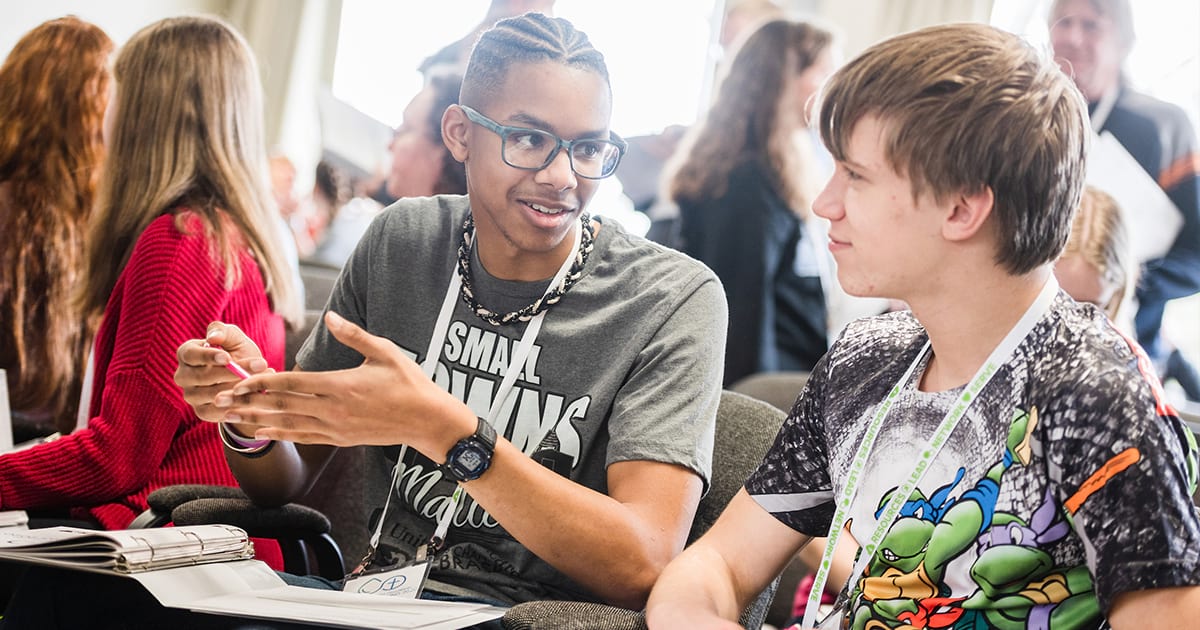 In July, more than 18,000 youth and adult participants attended the 2022 LCMS Youth Gathering, "In All Things," in Houston. In addition to participating in Bible studies, servant events, sessions and more, youth had a chance to take the LCMS Youth Poll. Gathering participants have taken the poll at every Gathering since the first one in 1980. Questions have been added and adjusted over the years. The poll provides snapshots in time and a look across time at changing issues, beliefs and concerns. The results of the poll provide feedback that enables the church to better serve its youth.
Because the poll is only taken by a sampling of Gathering participants, there are limitations to what the data can reveal. Nevertheless, the results provide helpful insight to those who care about young people and are involved in forming their faith.
The Rev. Dr. Mark Kiessling, director of LCMS Youth Ministry, said, "Broadly, the results are positive and consistent with what we have seen in other years. The majority of young people align with Lutheran beliefs on salvation, Scripture and other core theological matters. Respondents who reported worshiping weekly align more strongly with Lutheran doctrine than those who report worshiping monthly or less. Youth report feeling supported by parents, pastors, youth leaders and their congregations. High-risk behaviors like binge drinking and drug use continue to be reported at a low rate. When we look at the overall picture of what the poll tells us, there are many great things to say about our young people."
Key findings in 2022
In the area of time management, youth spent the most time studying/doing homework, followed by sports, extracurricular activities and work.
39% say they do not have enough time to get things done.
The percentage of youth taking the survey who attend a Lutheran high school doubled from 9% in 2019 to 18% in 2022. 
64% agreed that teens are a priority at their church. 
80% agree or strongly agree that they have an adult in their church with whom they can openly discuss doubts, struggles and questions. 
40% have struggled with mental health issues in the last year — up from 33% in 2019. 50% report having a close friend or family member with mental health issues in the last year. 
81% percent say that college is a worthwhile investment — down from 90% in 2019.
23% of youth report having a leadership role in their church. 
75% agree or strongly agree that they regularly discuss faith at home. 56% pray together with their family regularly.
28% of polled teens said their congregation responded well to the Covid-19 pandemic, while 46% said their church did "the best it could." 
Every LCMS Youth Poll since 1980 has asked youth to select three issues that concern them most about their life and/or the world. In 2022, the top five responses were abortion, mental health, gun control, "my future" and suicide. 
Respondents were also given an open-ended chance to share the issues they wish their church would talk about more. In 2022, the five leading answers were LGBTQ, mental health, abortion, reaching unbelievers/defending the faith and personal faith.
In 2022, for the first time, teens were asked where they get information about the issues that concern them. From a list of possible choices, Scripture was ranked first and parents second, followed by internet searches, pastors, friends and social media.
DCE Julianna Shults, program manager for LCMS Youth Ministry, said the poll shows that LCMS teens "want to take on difficult topics, and congregations should not shy away from addressing them. Our teens are hyperconnected to the world and all its issues. As they become more aware of the brokenness in our world, the church is uniquely equipped to provide them with support and hope." 
A summary of the LCMS Youth Poll data will be available at youthesource.com in the coming months. 
Posted Dec. 5, 2022