By Paula Schlueter Ross

In the aftermath of Hurricane Katrina, something unexpected happened at Trinity Lutheran Church in downtown Orlando, Fla. As its small Lutheran Women's Missionary League group rallied to assemble LWML "survivor kits" for evacuees arriving in Orlando, dozens of others — including the congregation's men and children — showed up to help
produce more than 780 kits.

"The involvement was quite amazing," said Doris Engstrom, the LWML member who spearheaded the project, and the women's auxiliary at Trinity gained five new members in the process.

"When we watched the pictures on TV, I just felt so helpless, but gathering and distributing the kits was an opportunity to do something meaningful and hands-on," said Engstrom. Apparently, others in the congregation had the same reaction: They wanted to do something. They wanted to help.

At this writing, at least 5,000 LWML survivor kits — large Ziploc bags stuffed with toiletries, towels, snack bars, and discount-store gift cards, among other things — have been delivered to hurricane evacuees in several states. Thousands more are being assembled by LWML groups nationwide.
Beginning Sept. 2, LWML President Linda Reiser sent word to LCMS women's auxiliary members to make the kits — at the request of LCMS World Relief/Human Care — and she says the response has been "unbelievable." Reiser has received
hundreds of e-mails from Lutheran women, pastors, and others who want to help in the effort. Some wrote to thank her "for allowing women to do something concrete, meeting an immediate need beyond the prayers and financial support they [already] were doing," she said.
Engstrom says the Orlando Red Cross is "delighted" with the survivor kits. After the first 300 were delivered, she got a call later that same day from a Red Cross staffer who said, "We need more."
Says Engstrom: "The women of the LWML pray for and look for ways we can be the 'hands and feet of Jesus.' Filling these kits and sending them to the hurricane victims was a very real way of doing this."
Lutherans everywhere seem to have found it impossible to see the images of hurting, homeless people on TV and do nothing.
In Fort Wayne, Ind., some 20 students from Concordia Theological Seminary piled into a bus packed with relief s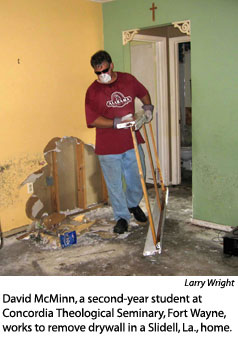 upplies and drove south. They spent a week in hard-hit Slidell, La., where they cleared fallen trees and debris from yards, tore out drywall, ripped up carpeting, and removed furniture from homes that had been flooded by water as much as eight feet high. They saw caskets and sailboats nestled in trees and sometimes had to dig through three inches of sludge to get to rotting carpets below. They also survived an accident, when their driver passed out and their bus flew down an embankment and narrowly missed nose-diving into a ditch. Other than minor cuts and bruises, no one was injured.
Reflecting on his service among Katrina victims, seminarian Derek Roberts recalled how "heads of households asked us to hold hands with them and their family and to pray with them at the end of the day's work. In Jesus' name, they offered their heartfelt thanks to God with tears for the work we were able to help them with."
Roberts said he believes the families — many of whom lost nearly everything — "cried more because of our help than for what they lost."
Also getting involved in hurricane cleanup were two groups of students from Concordia Seminary, St. Louis, who helped families in Biloxi, Miss. The seminary also is providing rent-free accommodations to three families from New Orleans. All are members of Bethel Lutheran Church there.
LCMS universities also are reaching out. Concordia University, Portland, Ore., is housing nine college students displaced by Katrina — all are receiving fr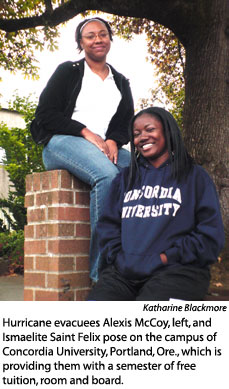 ee tuition, room, and board.
Portland native Alexis McCoy, who was rescued by a Coast Guard boat from Xavier University in New Orleans the day after the levee failed, recalled a long, harrowing experience. After leaving the campus, she and other Xavier students waited 12 hours on Louisiana's I-10 Highway before boarding buses that would take them north. McCoy said she and others were told to lie on the floor of the buses to protect them from angry residents who were shooting guns at passing vehicles.
"It was really scary because you didn't know what was going to happen to you," McCoy told reporters.
Fellow Xavier evacuee Ismaelite Saint Felix, who also is attending Concordia, Portland, said the experience "really helps you appreciate life. My heart goes out to everyone who helped us."
Other Lutheran entities also are responding to victims' needs:
St. Louis-based Concordia Publishing House supplied curriculum materials to some 40 hurricane-displaced students who are now attending Trinity Lutheran School, Baton Rouge, La. Concordia also will replace books, Sunday school resources, and other printed materials free of charge for congregations that lost CPH products in the hurricane. Contact Charlie Richard at (800) 325-3040 or charlie.richard@cph.org for more information.
Orphan Grain Train, a Lutheran human-care agency based in Norfolk, Neb., has delivered hundreds of LWML disaster kits, as well as more than 40 semi-truck loads of emergency food and supplies to needy families at numerous distribution sites in Florida, Louisiana, and Mississippi. President Ray Wilke says the organization has delivered more than $800,000 worth of supplies, including chain saws that were used to "open roads" in the early days of the disaster.

In a cooperative agreement with a chain of grocery stores, Orphan Grain Train has placed trailers in store parking lots to collect donated food and other supplies, and the agency is accepting cash donations as well. For information, visit its Web site at www.orphangraintrain.org.

Concordia Plan Services has initiated a "Catastrophic Assistance Plan" that will provide c