Products for Easter, children and teens, parents, educators, and pastors are among more than 100 new and previously released items featured in Concordia Publishing House's New Releases Spring 2005 catalog.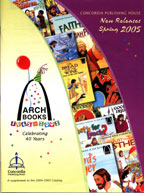 New books include:
Things I See at Easter, by Julie Stiegemeyer ($4.99, item no. 56-2333GNP), which is designed to help children ages 1 to 4 connect the sights and symbols of Easter with faith concepts.
Bright Easter Day, by Julie Stiegemeyer ($9.99, item no. 56-2344GNP), which follows Jesus from Palm Sunday to Easter in poetry, for children age 5 and older.
The Story of Easter, by Christopher Doyle ($12.99, item no. 56-2347GNP), which revisits Jesus' teaching and healing, His return to Jerusalem, and the events of Holy Week in factual narration, for children age 7 and older.
Mary Magdalene's Easter Story ($1.99, item no. 59-1592GNP), an Arch book for children age 5 and older.
Daddy Promises, by Kerry Arquette ($6.99, item no. 56-2360GNP), now in paperback, which encourages fathers to read to their young children.
Hindsight: Advice from Those Who Have Been There ($7.99, item no. 12-4180GNP), a collection of 60 devotions for high-school students and college freshmen — the authors are college students sharing what they've learned.
Show Me a Story, by Anita Reith Stohs ($9.99, item no. 12-4248GNP), which offers craft ideas for illustrating Bible stories.
Faithfully Parenting Tweens, by John R. Bucka ($9.99, item no. 12-4189GNP), which offers advice for parents of "tweens" — older children who aren't yet teenagers.
Blessings and Prayers for Men ($4.99, item no. 12-4271GNP) and Blessings and Prayers for College Students ($4.99, item no. 12-4267GNP), pocket-size collections of prayers, hymns, psalms, and Scripture readings.
Handling the Word of Truth, by Rev. John T. Pless ($12.99, item no. 12-4129GNP), which discusses Law and Gospel in contemporary life.
To order a free spring catalog (item no. 75-5124), or to place an order, contact CPH at (800) 325-3040 or on the Web at www.cph.org. Prices quoted do not include shipping charges.
Posted Feb. 28, 2005