For information on how to volunteer for hurricane cleanup and repair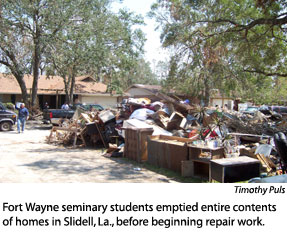 work in the LCMS Southern and Texas Districts, see the LCMS World Mission and LCMS World Relief/Human Care Web sites.
At this time, the Southern District is seeking teams, each with about six adults, to help remove and replace walls, floors, and ceilings in homes, churches, and schools damaged by the recent hurricanes.
The Texas District was still assessing damage and volunteer needs as this Reporter went to press.
Posted Sept. 29, 2005