By Joe Isenhower Jr.
INDIANAPOLIS–Lutheran educators from around the world say they found practical tips and professional insights to take home from the eighth triennial national Convocation of Lutheran Education Association (LEA) here April 7-9.
They also said they experienced the joys of rubbing shoulders with peers from 41 states and seven countries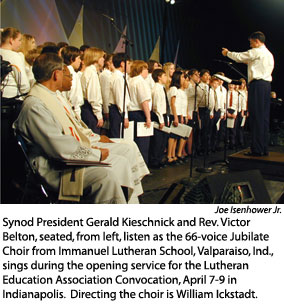 at the Convocation, while their faith and energy got a boost from speakers and others.
At least that's the way randomly selected Convocation participants described to Reporter the impact of the event that brought a record 4,407 of them to the Indiana Convention Center.
They gathered in the convention hall for worship, presentations, and sit-down banquets, browsed booths manned by 137 exhibitors, and fanned throughout the building and nearby hotels for 200 sectional workshops.
Three indigenous teachers from the Highland International School in Papua New Guinea attended their first Convocation.
"I know they feel very, very welcomed," said Dr. Lee Schluckebier of Seward, Neb., a part-time religion instructor at the Highland school. "They appreciate being in touch with all these educators and feeling part of a larger ministry," Schluckebier told Reporter.
Their school, started by Synod missionaries about 50 years ago, has 170 students and a staff of 17.
"We so often do our own thing, but the LEA Convocation brings us all together for spiritual and professional development, along with personal growth," said Aaron Landgrave, principal of St. Paul Lutheran School, Oak Lawn, Ill.
That school's entire staff of 17 was at the Convocation — with expenses covered by the school's budget, fund-raising projects (such as the recent sale of chocolate Easter bunnies), and donations.
Landgrave said that all 17 school staff also are members of LEA, which currently has a membership of more than 5,500.
"We certainly appreciate everything that LEA offers in the way of helpful information and resources," he said.
"There is no way to describe the rejuvenation that took place for me over the course of these three short days," said Jennifer Raess, principal of Mission Lutheran School, Las Cruces, N.M.
Raess, attending her first national Convocation with a teacher from the school staff, told Reporter she planned to put together a notebook with the handouts and notes she got at the event to share with others at the school, which was opened in the mid-1990s and now has about 45 students.
"It was such a rewarding, faith-building experience that I will plan now for more of our staff to attend in 2008," said Raess, adding that the school would start a savings account to help make that possible.
Mission Lutheran School's budget covered lodging and travel expenses for its two Convocation participants, and LEA helped offset registration expenses.
LEA scholarship funds helped numerous others with Convocation expenses, including funding for six school administrators from inner-city New York City who had never been to a Convocation before.
"My expectations have certainly been exceeded," said one of them — Barbara Chin-Sinn, principal of St. John Lutheran School, Glendale, in Queens. Chin-Sinn said that for her, the Convocation was "very well thought out and organized — educational, informational, and inspirational" — enabling her to renew established friendships and start new ones.
"This Convocation has certainly lived up to its reputation," said Mary Nordeen, administrator for St. Mark Lutheran School, Brooklyn, N.Y. "I feel transformed, transfused, and energized."
Nordeen said she intended to "try to transfer some of that enthusiasm" to others after returning to New York City.
Much of the funding for their scholarships came from educators attending the previous LEA Convocation — in Minneapolis in 2002.
There, teachers and administrators gave more than $12,000 in a communion-service offering to help Lutheran schools most affected by the Sept. 11, 2001, terrorist attacks on America.
LEA Executive Director Jonathan Laabs said that the $17,000 offering from this year's Convocation communion service will provide support for a new LEA project to help educators, schools, and community centers in Indonesia recover from the effects of the tsunami that devastated that country Dec. 26.
Dr. Mitri Raheb, pastor of Christmas Lutheran Church in Bethlehem, Israel, thanked LEA for its support, including funds from the 2002 Convocation offering.
His congregation — in the West Bank and often caught in the crossfire of the conflict between Israel and Palestinians — operates a school and a health and wellness center.
"Thank you for your prayers and support, which have kept us going," Raheb said at the Convocation's opening session.
Other Convocation speakers this year included Synod President Gerald B. Kieschnick, who delivered the sermon for the opening communion service; Rev. Victor Belton
of Decatur, Ga., preacher for the "sending event" that closed the Convocation; and Dr. Marva Dawn of Vancouver, Wash., keynoter.
Their presentations addressed the Convocation theme, "Redeemed, Revived, Ready."
"It was truly inspiring to welcome so many dedicated educators at all levels," Laabs told Reporter after the Convocation ended. "We are excited to support the ministries of Lutheran educators worldwide in whatever ways we can."
Laabs noted that more than 200 volunteers helped with the 2005 Convocation, including a consulting team of some 50 educators and a 10-member Planning Team.
LEA's 2008 Convocation is set for April 24-26 in Minneapolis.
For more information about the Lutheran Education Association, click here.
Posted April 29, 2005