LCMS President Gerald Kieschnick is urging Missouri Synod Lutherans to consider opportunities for donating toward disaster relief in the wake of the Dec. 26 earthquake and tsunami in South Asia, and to pray for "those so deeply devastated by this horrific event."

In a Dec. 30 electronic letter to pastors, Kieschnick noted that the death toll had climbed from 20,000 to more than 100,000 in the two days sinc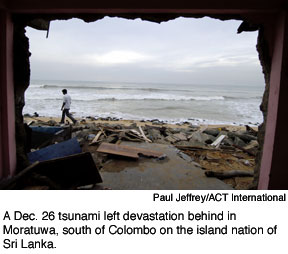 e his electronic letter to congregations about the need for prayer after the disaster. (By Jan. 4, that figure approached 140,000.)

Kieschnick specifically mentioned giving opportunities through LCMS World Relief/Human Care, Lutheran World Relief, Lutheran Hour Ministries, and a donation-matching program from Thrivent Financial for Lutherans.

"You may be aware of other Lutheran organizations that are providing assistance as well," he writes.

"In addition and of great importance," he said, "is the need for our daily prayers for divine guidance, hope, comfort, and renewal in the lives of those so deeply devastated by this horrific disaster. Many of the survivors have no knowledge or assurance of eternal salvation through faith in Christ Jesus, our Lord and Savior. Pray that our proclamation of the Good News of Christ will touch lives that have been and continue to be shattered by bad news, even devastating news."
LCMS World Relief/Human Care is working to provide safe water, food and shelter for survivors, through the Lutheran World Relief network and through LCMS World Mission's staff and Lutheran partner churches in the region.
"As the Synod's disaster-response arm, LCMS World Relief/Human Care is the sole U.S. agency providing physical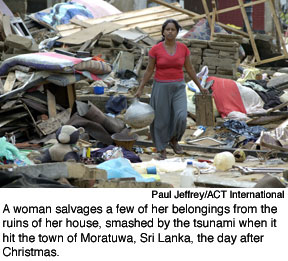 care along with spiritual care through LCMS missionaries and LCMS national church partners," said Greg Koenig, a member of the LCMS World Relief/Human Care staff.
Koenig said that LCMS World Relief/Human Care is working with LCMS World Mission to develop four medical-mission teams "to primarily assess human-care needs resulting from the earthquake and tsunami" in Sri Lanka, India, Thailand and Indonesia — where the earthquake and tsunami caused the most casualties.
To contribute, make checks payable to "LCMS World Relief" and earmark them "Asia Tsunami" on the memo line. Mail donations to LCMS World Relief/Human Care, P.O. Box 66861, St. Louis, MO 63166-9810. Or, call the credit-card gift line at (888) 930-4438. Donations also may be made through the Synod's Web-based "Mission and Ministry Giving Catalog."
The Marvin M. Schwan Charitable Foundation is providing a grant to match dollar-for-dollar donations to LCMS World Relief/Human Care for tsunami relief, up to $100,000.
Lutheran World Relief (LWR), Baltimore, announced Dec. 29 that it has launched what it calls the "Wave of Giving Campaign" to raise at least $5 million i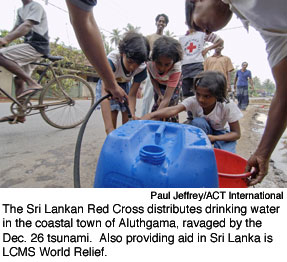 n "a long-term rebuilding effort for the countries of South Asia affected by what some people have termed the worst disaster in history," says an LWR news release. It goes on to say that the aim of the campaign is "to rebuild lives, create livelihoods and restore dignity to millions."
The LWR release says that funds raised will provide "elevated disaster shelters," building materials, psychological counseling, disaster preparedness and first aid, and help repair or rebuild health clinics, schools, and community centers.
Thrivent Financial for Lutherans announced Dec. 31 that it is providing an immediate $1 million grant to the "Wave of Giving" campaign, and a $2 million matching grant (dollar-for-dollar) for Thrivent-member gifts to the campaign.
For the matching grant, Thrivent members must complete a disaster-response form to accompany their gifts. To receive the form by mail, call Thrivent at (800) 847-4836, select option 1, then option 5, and finally option 2. The form also may be available locally from Lutheran congregations or Thrivent representatives.

Donations to LWR may be made online, by phone at (800) 597-5972, or by check or money order mailed to Lutheran World Relief, South Asia Tsunami, P.O. Box 17061, Baltimore, MD 21298-9832.
Koenig said that LCMS World Relief would reserve a portion of tsunami-relief donations for LWR's "Wave of Giving" campaign. In addition, he said that donors to tsunami relief through LCMS World Relief/Human Care may designate a specific amount or percentage of their gift for that campaign, but that Thrivent matching funds are only available for direct gifts to LWR.
LCMS World Relief also has pledged $75,000 to Lutheran Hour Ministries (LHM) for relief in Thailand, Sri Lanka, and India, where LHM has offices.
On Dec. 30, LHM announced it was launching an appeal to provide spiritual counseling, tracts, and booklets to affected families, along with food and drinking water.
A news release that day from LHM said that in addition to its $75,000 pledge for food, water, and blankets, LCMS World Relief/Human Care would match dollar-for-dollar contributions that individuals and church groups give to LHM for food, water, and blankets in those countries.
To donate to LHM's Asian Disaster Ministry Fund, call (877) 333-1963 (Monday through Friday, 8 a.m.-4 p.m.); or mail checks to Lutheran Hour Ministries, 660 Mason Ridge Center Drive, St. Louis, MO 63141-8557. Credit-card donations may be made online.
Orphan Grain Train, headquartered in Norfolk, Neb., announced Dec. 29 that it is sending a 40-foot-long shipping container filled with relief supplies to its warehouse in Bangalore, India.
It will take six to eight weeks for the ocean-freight container to reach Asia, according to an Orphan Grain Train news release. For more short-term response needs, Orphan Grain Train is accepting cash donations to buy disaster-relief supplies from Asian suppliers.
Make checks payable to "Orphan Grain Asian Disaster Relief Fund" and send them to Orphan Grain Trai