New from Concordia Publishing House is Selected Sermons of Norman Nagel: From Valparaiso to St. Louis, a collection of 50 years of sermons by Lutheran edu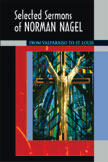 cator Dr. Norman Nagel.

Nagel teaches graduate systematic theology at Concordia Seminary, St. Louis. He received his master's degree from the St. Louis seminary in 1953, and in 1962 received his doctorate from the University of Cambridge, England. He served as the first preceptor of Westfield House, the theological college of the Evangelical Lutheran Church of England, and later, as dean of the Chapel of the Resurrection at Valparaiso University, Valparaiso, Ind.

To order the 368-page volume, Selected Sermons of Norman Nagel ($24.99, item no. 12-4151), contact CPH at (800) 325-3040. Shipping is extra.
Posted Jan. 27, 2005