Dr. Roy K. Holm, who served 22 years as president of Lutheran Church–Canada's (LCC) Central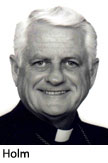 District, died of pneumonia Nov. 25 at a hospital in Regina, Saskatchewan. Holm, 69, had battled cancer for the past five years.
A public memorial service is scheduled for 7 p.m. on Wednesday, Nov. 30, at Celebration Lutheran Church in Regina.

The Nebraska-born Holm had served seven terms as Central District president — from 1978 until his retirement in 2000. He served as an LCC vice president from 1981 to 1988, and as secretary of the International Lutheran Conference — a worldwide association of confessional Lutheran church bodies now known as the International Lutheran Council — from 1984 to 1987.

He was a "founding father" of the LCC, working with the two other district presidents, LCC Federation President Elroy Treit, and the board of directors toward the denomination's founding convention in 1988.

Under Holm's leadership, the Central District (formerly the Manitoba and Saskatchewan District) was the first LCC district to produce a newspaper, The Canadian Lutheran. While district president, Holm also established the Lay Leadership School, which provided theological training to lay leaders.
A 1960 graduate of Concordia Seminary, St. Louis, Holm received the Doctor of Divinity degree from Concordia Lutheran Seminary, Edmonton, Alberta, in 1989. He was the recipient of the Christo et Ecclesiae ("for Christ and church") Award in 1991 from Concordia University College of Alberta, Edmonton.
Until early November, Holm had served as interim pastor for two LCC congregations — St. Luke's, Ogema, and Celebration, Regina.
Holm's passion was "mission and outreach," according to LCC staff. "We have the bread of life," he once wrote. "What a challenge for us to find new ways to get the wonderful message of Jesus to a nation starving for true spiritual food."
Reached via e-mail for comment, LCC President Ralph Mayan told Reporter, "I have lost a good friend and the church a good pastor whose only desire was to 'preach Jesus' until the day the Lord took him home. We in Lutheran Church–Canada give thanks to God for this servant-leader. We thank Him for Roy's 22 years of service as president of the Central District, and we remember and honor him as one of the 'fathers' of our beloved Lutheran Church–Canada.
"In the midst of our sadness, we find comfort in the message which Roy and all of us are privileged to share — that in Jesus Christ, death has been defeated and new life given," Mayan continued. "With faith in Christ's Word and promise, we, together with all His saints, will surround the throne and sing the hymn of victory, 'Glory and honor and power and praise be to our God and to the Lamb forever.'"
Holm is survived by his wife, Maxine, and five grown children. Memorials may be made to the Roy and Maxine Holm Mission Endowment Fund, Lutheran Foundation Canada, 3074 Portage Ave., Winnipeg, MB, R3K 0Y2.
Posted Nov. 28, 2005