Dr. LeRoy Wilke, executive director of the LCMS Board for District and Congregational Services (DCS) since 2000, announced last month his intent to retire June 30.

The board, meeting Feb. 4-5 in St. Louis, appointed Rev. Jeffery Schubert, its director of Family Ministry, to serve as interim executive director during the vacancy. It has already begun the process for filling the position full-time, with a call for nominati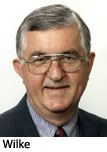 ons in this issue of Reporter.

Wilke joined the Synod staff in 1985, serving over the next 15 years in the area of youth ministry, including five years as executive director of the former LCMS Board for Youth Services.

He said he and his wife, Jane, will remain in the St. Louis area "for the next several years" and that he "will be doing some part-time work beginning later this summer or fall."

"I have been truly blessed to be in a partnership of dedicated individuals in serving and working with God's people," Wilke said in a memo to staff at the Synod's International Center, announcing his decision to retire.
Posted Feb. 25, 2005