By Paula Schlueter Ross

Astronaut Jeff Williams had barely settled into his "home away from home" on the international space station when he gave his pastor a quick phone call.

Launched via a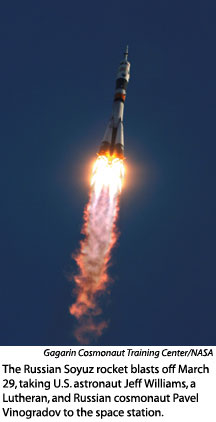 Russian Soyuz rocket March 29, Williams and cosmonaut Pavel Vinogradov boarded the space station a couple of days later. The two plan to live and work there for six months as the two-man crew for Expedition 13.

Williams, a member of Gloria Dei Lutheran Church in Houston, called Pastor John Kieschnick the morning of April 2, a Sunday, hoping to catch him before the 8 a.m. worship service.

Kieschnick, in prayer with the congregation's team of "prayer partners," a ritual he practices every Sunday morning, could feel his cell phone vibrating in his pocket, he told Reporter in a telephone interview. When he finished his prayer and checked the voice mail, he was amazed to hear Williams' voice — crystal clear from space, some 250 miles above the earth!

Williams called to assure his pastor and congregation that he was safe and doing fine and to thank them for their prayers and support. The astronaut called again on April 4 and spoke with Kieschnick and other Gloria Dei staff.

"It blew me away," Kieschnick said of the calls. "He sounded absolutely confident — calm and at ease, very secure."
"He wanted to let us know that he was doing well and he appreciates the e-mails," said Kieschnick, who, along with other friends and family members also has been sending encouraging e-mails to Williams.
Some 350 Gloria Dei members attended a "launch party" M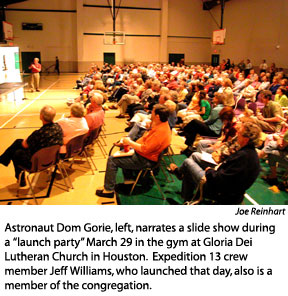 arch 29 in the church gym, where astronaut and fellow member Dom Gorie narrated a slide show of the space station and views of earth from space. The crowd also watched NASA Network programming about Expedition 13.
Live broadcasting of the launch from Kazakhstan was provided by the Houston-based Johnson Space Center and projected on a big screen TV in the gym.
"As the clock approached countdown, the room was filled with excitement, anticipation, and silent prayers," said Joe Reinhart, the congregation's communications coordinator. "When the Soyuz rocket successfully launched and ascended into space, everyone applauded, praised God, and then celebrated together. It was truly a momentous occasion for everyone involved."
Kieschnick said the congregational support has been good for members, as well as Willliams. "I think it's been an exciting time for the entire congregation," he said.
Along with
prayers and e-mails, Gloria Dei also is sending Williams audio and video recordings, including video greetings from members taped during the launch party, Kieschnick's Easter sermon, and music from the Easter services.
"He said that really connects him to home," the pastor said.
About a fifth of the congregation's 3,200 members have connections to NASA, including several astronauts, and many, like Williams, are "very involved" in ministry, according to Kieschnick.
"We're really blessed with some wonderful witnesses to Jesus Christ that are part of the astronaut corps," he said.
Posted April 19, 2006