After 15 years of overseeing 500 projects, Curt Connolly has stepped down as director of the Synod's Laborers For Christ (LFC) program.
But he's not exactly leaving LFC, a program in which retired Lutherans help build or remodel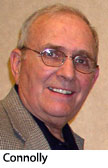 churches and other Synod structures at considerable savings.
Instead, Connolly, 65, says he'll continue to serve LFC as a regional consultant — helping congregations plan their building projects and making sure those plans are carried out by LFC crews.
Connolly said he thanks God for the opportunity to direct LFC, a program he calls "a very attractive alternative for LCMS congregations that are planning to undergo a construction project.
"LFC not only helps the congregation save money on its project, but conducts a ministry with the congregation and its community that helps the congregation unite in ministry," he said. "It is a very satisfying means of serving in the work of the Lord."
Likewise, directing LFC also was "a very rewarding last best career," Connolly told Reporter.
"First, I could see the hand of the Lord in moving to meet the needs of the congregations through LFC almost every day," he said. "When we were at our wits end to find a project manager, the Lord would send a project manager who would call and say, 'I need a project — is there any place I can serve?'
"Second, the great people who serve as Laborers make the operation of the Laborers For Christ program run. They are available and willing to serve where there is need. It is very different from the commercial world.
"Third, working with the dedicated staff and administrative volunteers has been enjoyable and productive and has given the LFC organization a well-developed means of running the LFC operations."
Originally a program of the Synod's Rocky Mountain District, LFC began operating nationally in 1985 as part of LCMS World Mission. Since then, its crews have completed some 725 projects, both in the United States and overseas, according to Connolly. In 2003, LFC was transferred from LCMS World Mission to the Lutheran Church Extension Fund (LCEF).
Succeeding Connolly as LFC director is Dan Baker, who began serving part time as the program's associate director in October 2005. Baker, 54, has directed L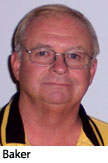 FC as LCEF vice president for Laborers For Christ since May, and spent much of this summer and fall in New Orleans, getting Camp Restore up and running. The camp, which opened Oct. 1, houses volunteers who are helping to rebuild hurricane-damaged homes in the New Orleans area. The camp is managed by an LFC crew.
Baker, who has served LFC as a preconstruction coordinator since 2003, says "it was a God thing" that led to his current position.
When he was offered the post, he said he "knew instantly that's what I wanted to do — that's where God wanted me to be."
As LFC director, Baker said his goal is to visit each of the 20-plus LFC building sites scheduled for this year to view the projects firsthand and to assist the project managers and preconstruction crews.
The organization's roster includes about 325 "Laborers," but more are always needed, he said.
For more information, visit the LFC Web site at www.lcef.org (click on "Laborers For Christ") or contact the LFC office at (800) 843-5233 or via e-mail at info.lfc@lcef.org.
Posted Dec. 13, 2006