Concordia Publishing House's Spring 2006 New Releases catalog features photos and descriptions of more than 30 new books for children, youth, adults, pastors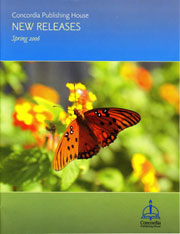 , teachers, and church leaders, as well as nearly 140 previously published books, Bible studies, and resource materials.
Among new items is a selection of Easter books for children, including:
He Is Risen Indeed!, illustrated by David Erickson ($12.99, item no. 56-2386), a picture book for ages 6 and up with a Scripture narrative that tells the story of Good Friday and Easter morning.
God's Easter Promise — Only God Would Have Planned It That Way, by Rev. Todd Barsness ($9.99, item no. 56-2343), which compares and contrasts how Holy Week could have been and how it really was. The book is designed to show children ages 7 and older that "God's ways are always best and often come through circumstances we don't expect."
Happy Easter, by Susan K. Leigh ($4.99, item no. 56-2390), a "board book" that uses photographs and simple text to tell children ages 1 and up about the events of Holy Week and Easter and how Jesus' resurrection is celebrated today.
Easter Surprise, by Vicki Howie and Moira Maclean ($8.99, item no. 56-2394), a "lift-the-flap" board book that engages children ages 2 to 5 in the Easter story as they lift flaps to discover hidden characters.
Jesus Lives! and its Spanish counterpart, Jesus vive!, by Maria Ester de Sturtz ($1.99 each, item nos. 56-2380 and 16-6190, respectively), 30-page coloring books that relate the Easter story for children ages 4 and up.
Other new titles include:
Concordia: The Lutheran Confessions — A Reader's Edition of the Book of Concord, edited by Rev. Paul McCain, Rev. Robert C. Baker, Dr. Gene Edward Veith, and Rev. Edward A. Engelbrecht ($29.99, item no. 53-1131), billed as "laity-friendly" with annotations, notes, introductions, a reading guide, charts, graphs, and illustrations to help readers better understand the Lutheran Confessions and "what Lutherans believe."
Irrigating Deserts — C.S. Lewis on Education, by Dr. Joel D. Heck ($22.99, item no. 12-4134), which explores Lewis' views on the purpose of education, model schools, and the "Inner Ring," along with his belief in the importance of books.
Mommy Promises, by Julie Stiegemeyer ($12.99, item no. 56-2387), which invites mothers to share their "heartfelt promises" with their children ages 6 months and older.
The Christian Babysitter's Handbook, Third Edition, by Sarah Fletcher ($8.99, item no. 12-4273), a guide that offers babysitters ages 11 and older tips on discipline, safety, phone usage, and payment discussions. Also included are games, songs, and activities.
Going Out, Getting Dumped, and Playing Mini Golf on the First Date, by Rev. Tim Pauls ($7.99, item no. 12-4260), which looks at dating and marriage from a biblical perspective and promises "straightforward answers to dating questions."
The Make & Do Bible, by Gillian Chapman ($19.99, item no. 56-2391), which offers step-by-step illustrated directions for 48 craft ideas that relate to the Bible and the church year.
Banner Designs for the Church Year, by Jane DeBord and Linda Isbell ($12.99, item no. 12-4263), with 40 reproducible designs for church banners.
For more information or to order, call CPH at (800) 325-3040 or visit the CPH Web site. Prices above do not include shipping charges.
Posted Feb. 15, 2006