Delegates elected a new president at the 18th convention of the Ohio District, June 8-10 in Columbus, Ohio. Rev. Terry L. Cripe, pastor of Christ Our Savi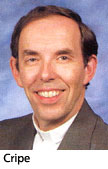 or Lutheran Church in Defiance, Ohio, for 17 years, was elected to the district's top post on the fourth ballot.
Cripe, 58, had served as the district's first vice president since 2003. He succeeds Rev. Ronald L. Bergen, who is retiring after serving as district president since 1996.
Also elected were:
Dr. John "Jack" Davidson of Lancaster, Ohio, first vice president — Southern Region;
Rev. Peter Marcis, Napoleon, Ohio, second vice president — Northwest Region; and
Rev. David Zachrich, Tallmadge, Ohio, third vice president — Northeast Region.
Cripe and other officers were installed during the convention.
Under the theme "Reclaiming the Mission: Through Nurture and Outreach," delegates voted to:
revise the district's Code of Regulations — the first major revision in 40 years. The revision eliminates program boards in favor of task forces appointed by district executives and provides greater flexibility, encourages wider participation, and allows for more action on a more proactive basis, according to a district spokesman.
establish a Lutheran Educators Assistance Fund that would provide tuition assistance to low-income, predominantly urban, families who want to send their children to Lutheran schools.
Posted June 22, 2006