Dr. Elwood H. Zimmermann, president of the LCMS Indiana District from 1970 to 1988, died from liver cancer Aug. 19 at his home in Fort Wayne, Ind.
The funeral service for Zimmermann, 86, was Aug. 23 at St. Paul Lutheran Church, F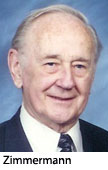 ort Wayne, where he was a member, with committal following at Concordia Cemetery Garden, Fort Wayne.
A 1944 graduate of Concordia Seminary, St. Louis, Zimmermann served his entire ministry in Indiana.
He was pastor of Bethel Lutheran Church, Austin, Ind. (1944-48), and Grace Lutheran Church, Indianapolis (1948-58), before joining the staff of the former LCMS Central District, a predecessor of the Indiana District. He first held the post of district executive director of stewardship (1958-66), and then was executive director of missions (1966-70) until his election as Indiana District president.
For 16 years after his 1988 retirement, Zimmermann was editor of the Indiana District's monthly insert to The Lutheran Witness.
In 1974, he received an honorary doctorate from Concordia Seminary, St. Louis.
Survivors include his wife of 62 years, Betty, of Fort Wayne; a daughter, Ruth Boller of Indianapolis; three sons –- John Zimmermann, Laramie, Wyo.; Rev. Paul Zimmermann, Clearwater, Fla.; and Philip Zimmermann, Columbia City, Ind. — and six grandchildren.
The family suggests that memorials be directed to the following:
St. Paul Lutheran Church Mission Fund, 1126 S. Barr St., Fort Wayne, IN 46802.
First Lutheran Church, 1644 Nursery Rd., Clearwater, FL 33756.
Time of Grace Ministry, P.O. Box 301, Milwaukee, WI 53201.
Posted Aug. 21, 2006