A book of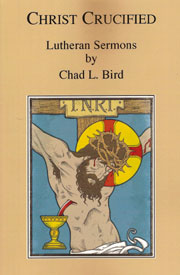 sermons by LCMS Professor Chad L. Bird was published in January by Emmanuel Press, Grand Rapids, Mich. Bird is assistant professor of exegetical theology at Concordia Theological Seminary, Fort Wayne.
The book, Christ Crucified: Lutheran Sermons by Chad L. Bird, includes some 60 homilies Bird gave in seminary and university chapels and Lutheran congregations for worship services, ordinations, weddings, and conferences.
Christ Crucified is available for $17, plus shipping, from Emmanuel Press. To order, visit the Emmanuel Web site at www.emmanuelpress.us.
Posted Jan. 13, 2006