Rev. Dan P. Gilbert of Yorkville, Ill., was elected on the first ballot to his first term as president at the 55th Regular Convention of the Northern Illinois Dis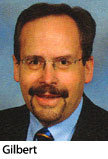 trict, June 23-25 in St. Charles, Ill.
Gilbert, 55, succeeds Dr. William H. Ameiss, who had previously announced his decision to retire, concluding 36 years of full-time service to the district. Ameiss joined the district's staff in 1970 as youth executive, was elected president in 1997, and was re-elected for two more terms. During the convention, delegates declared Ameiss president emeritus.
Gilbert has been pastor at Cross Lutheran Church in Yorkville since 1983 and a district vice president from 1998 to the present. He was a member and chairman of the district's mission board from 1988 to 1997.
Also elected were:
Rev. Allan R. Buss of Belvidere, Ill., first vice president;
Rev. Daniel J. Teller, Round Lake, Ill., second vice president;
Rev. David Speerbrecker, Homewood, Ill., third vice president; and
Rev. Larry Frazier, Dolton, Ill., fourth vice president.
The convention included much theological discussion, with delegates affirming cautious and responsible exercise of freedoms in worship practice, support for the Synod's process for dispute resolution and expulsion, and 2004 LCMS convention actions related to the role of women in the church.
Delegates also asked for clarification on several statements and terms related to ecclesiastical supervision, the Commission on Theology and Church Relations document on "Guidelines for Participation in Civic Events," and the Ablaze! movement.
They also voted to:
petition the Synod to expand Distance Education Leading to Ordination (DELTO) opportunities to include workers from multiple-staff congregations.
encourage expansion of small-group ministries in congregations and especially participation in Groups Ablaze!
urge full participation in the district's Ablaze! Weekend Sept. 22-24, including hosting community outreach events and attending the districtwide rally.
Posted June 27, 2006