LCMS World Mission -– Outreach Ministry is accepting applications for the next Harvesters For Christ training event — set for Oct. 25-29 at the St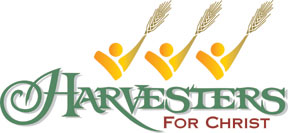 . Paul Institute for Education in Concordia, Mo.
Harvesters is an Outreach Ministry program that partners with LCMS districts to use evangelism volunteers who help Synod congregations start, shore up, or expand outreach ministry to unchurched people in the congregations' communities. Harvesters teams usually serve on location for up to four consecutive weeks.
Host congregations cover housing, transportation, and meals for Harvesters teams while they are serving the congregation.
"We are challenging LCMS members personally to be actively involved in God's mission as a Harvester For Christ," said Rev. Al Tormoehlen, who directs the program for LCMS World Mission.
Tormoehlen said that he especially urges members to apply for the program if they "have an active awareness of Christ's grace in their lives — now and forever, a desire to share that grace with those who do not know His love for them, and prior experience in congregational leadership or evangelism ministry."
Training materials, housing, meals, and transportation for the training event are covered for those accepted into the "Harvesters" program. For more information about the training event, call (800) 433-3954, Ext. 1286 or 1287.
Request an application form for that event by sending an e-mail message to harvestersforchrist@lcms.org.
Tormoehlen also encourages those who are interested in the Harvesters program -– even though they would not be able to participate in this year's training –- to contact his office at the phone number above.
For more information about that program, visit
www.lcmsworldmission.org/outreach and click on "Harvesters For Christ."
Posted Aug. 15, 2006