Dozens of teenagers from all over the United States learned about church vocations at the "Exploring Church Careers Event" and "Exploring the Pastoral Ministry," held July 29-Aug 1 and Aug. 1-4, respectively, at Concordia Seminary, St. Louis.
Activities at the two events, held annually, included Bible studies, worsh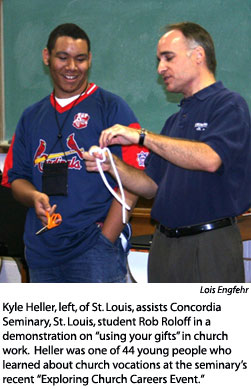 ip, presentations, discussions, sample classes, visits to local ministries, and a "servant event."
During the church-careers event, admissions representatives from eight Concordia University System schools and Valparaiso University distributed information and answered questions about academic programs that prepare students for careers as pastors, teachers, deaconesses, directors of Christian education and outreach, church music directors, and other vocations. Attendees also had opportunities to talk with church workers about their service.
Those who attended the pastoral-ministry event met with seminarians and professors, and heard about preparation for the ministry, as well as the joys and challenges.
"Every time I come to this event I am encouraged even more that God is leading me to serve Him and His people as a pastor," said one participant.
Rev. Glen Thomas, vice president for seminary relations at the seminary, called the events "extremely significant" because "they help identify future church workers."
"Sometimes our most gifted youth are never approached with the idea of serving in a church vocation," Thomas said. "These events allow young people to see the many ways God can use the gifts He has given them to serve Him in these special ways."
The Exploring Church Careers Event (ECCE) was made possible by a $150,000 grant from Indianapolis-based Lilly Endowment Inc.
Both the ECCE and "Exploring Pastoral Ministry" will be repeated next year, Aug. 4-7 and Aug. 7-10, respectively. Nomination forms will be mailed to LCMS pastors, high school principals, teachers, and guidance counselors in February, or may be downloaded, beginning in February, from the seminary's Web site at www.csl.edu.
Registration for both events will begin March 1. For more information, contact the seminary's Admissions Office at (800) 822-9545 or ecce@csl.edu.
Posted Sept. 19, 2006