Delegates to the Indiana District convention re-elected President Daniel P. May to his second term. May, 63, was elected on the first ballot.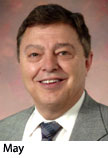 The convention was held June 22-23 in Fort Wayne, Ind., under the theme "Rejoicing in the Hope," from Rom. 5:1-2.
Also elected were:
Rev. David Mommens, Columbia City, Ind., first vice president.
Rev. John Fiene, Zionsville, Ind., second vice president.
Rev. Martin Keller, Evansville, Ind., third vice president.
Rev. Roger Rohde, Bremen, Ind., fourth vice president.
May and the other officers were installed during the convention.
Delegates voted to:
encourage 10 or more district congregations to establish new worship sites or plant "daughter" congregations within the next triennium.
work to overturn a U.S. federal court ruling for the Southern District of Indiana that forbids opening prayers during sessions of the Indiana House of Representatives.
encourage all district congregations to train members to "share the Gospel in word and deed" and to view that witnessing as "a central activity of their life as a Christian."
ask district congregations to "give serious and prayerful consideration to the adoption of the Lutheran Service Book."
encourage all district congregations to establish a "Child Protection Policy" to protect children from abusive situations and to protect church workers from false accusations.
Posted June 29, 2006