By James Heine
DITTMER, Mo. — For Hope Day, her journey to faith is even more extraordinary than her journey last fall from her home and husband in Beijing to her temporary home in suburban Detroit, Mich., where she has pursued a year of business, computer, and English studies at Oakland Community College.
That faith-journey began with the death of her father and her struggle to understand his death, Day said. It includes periods of despair and doubt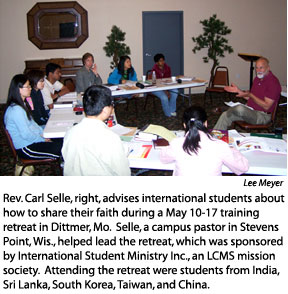 , a friend, and two visiting university instructors who witnessed to her of their Christian faith — a witness she did not trust and rejected — and the marvelous, mysterious working of the Holy Spirit to comfort her heart and bring her to faith.
"It is a long story, a very long story for me, how I became a Christian," she explained during a break from her studies at the 11th In-Depth Training Conference for International Students.
The conference was held May 10-17 at the Revive Us Again Retreat Center here.
Organized by the International Student Ministry, Inc. (ISM), an LCMS mission society that encourages ministries to offer friendship, hospitality, and the Good News to international students studying at U.S. universities, the annual weeklong conference provides leadership training to students.
The goal: To help them grow as small-group leaders, gain a better understanding of the Christian faith, improve their witnessing skills, and develop more fully in their personal faith, said Rev. Carl Selle, pastor at Peace Lutheran Campus Center in Stevens Point, Wis.; a consultant for LCMS World Mission; and facilitator of the conference.
"Our intention is to provide spiritual equipment and encouragement to international students who are either going back to their home countries or are going back to their campus ministries," Selle said.
More than 700,000 international students from around the world study at U.S. institutions, according to Selle. Add their families, and those who are part of government or business exchange programs, and one sees a tremendous opportunity to fulfill the Great Commission.
"International students are very gifted people," Selle said. "We've had Ph.D.s here, post-doctoral students here. Some have been Christians all their lives.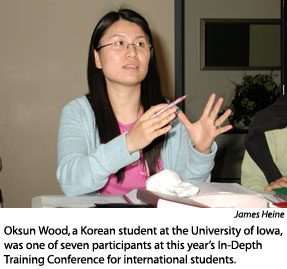 Others have been active Buddhists or nominal Hindus, and they have come to know Christ here in this country. We seek to help them become better leaders, to provide them with more spiritual tools."
Attendance at the annual conference is limited to 15 students. The small size is intentional and allows for an in-depth and personalized approach to the topics on the conference agenda, Selle said.
The approach appeals to students such as Jose Thankamani and Ganga Fernando, Ph.D. candidates in chemistry at Southern Illinois University at Carbondale (SIUC). Thankamani, from Chennai, India, and Fernando, from Kandy, Sri Lanka, met and married while studying at the University of Texas at Arlington. In Arlington, they were embraced by the Lutheran student center. In Carbondale, they want to offer that kind of welcome to international students attending SIUC.
"They were so welcoming and so friendly," Fernando said about the Lutheran student center at the University of Texas. "We felt at home."
Many Christian international students experience problems finding a church home while they are studying in the U.S., Thankamani and Fernando said. In Carbondale, they hope to help students find worship homes and help local Christians understand the needs of international students.
The training provided by the ISM conference helps them meet that goal, Thankamani and Fernando said. It will improve their Bible knowledge and enable them to "teach others better and bring them to the Word of God," Thankamani added. "As Ganga said, we have a few friends you could call lost because they're not going to church, or they're not finding churches that are comfortable for them. So we want to bring them also, if not to the Lutheran church, at least to the Christian faith."
To give students the background they seek, the conference agenda is divided into three tracks, Selle said. The first focuses on a study of Scripture; the second, on doctrine, based on a review of the Catechism; and the third on small-group time that allows for discussion and prayer.
"They're looking for more information," Selle said. "They're looking for encouragement so they can express the faith they already have."
Day, an English teacher in Beijing, agrees: "It's very hard for me to explain how the Holy Spirit is working in my heart," she said. "But He has touched my heart."
Day also acknowledges that her own faith journey continues. She still grieves the loss of her father — as does all of her family — and she is at times apprehensive about returning home. Being a Christian in China is not a popular thing, she said. Day has explained her faith, and the comfort it has brought her, to her family and friends — and to her husband, she added, but they have not been especially interested. When she returns home, she will tell them again.
"This has been very helpful for me," Day said about the conference. "It is giving me a way to teach the Bible and spread the Gospel. God will help me develop my way to teach the people, to tell the Gospel."
Even though her family and friends may not be hungry for the Gospel, or may even reject it, as she herself did initially, it remains her desire to tell them "what God has done for me and how He loves me," Day said.
"Just like the Scripture said," she observed. "I plant the seed. I water the seed. God will make it grow. The Holy Spirit will make it grow. It's not me. I cannot make it grow."
Students such as Day, Thankamani, and Fernando are not the only ones who benefit from the annual conference, Selle explained. It is also a tremendous energizer for the conference staff.
"We are blessed to be working with these students," he said.
International Student Ministry Inc. offers a free newsletter and other resources for reaching out to international students on U.S. campuses. For information, visit its Web site or send an e-mail to isminc@isminc.org.
Posted June 1, 2006