The International Lutheran Laymen's League (Int'l LLL) 89th annual convention is set for July 6-9 at the Holiday Inn Grand Mountain and Billings Hotel, Billings, Mont.
Its theme is "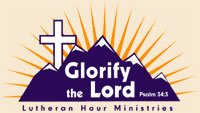 Glorify the Lord," based on Psalm 34:3.
Registration, open to anyone interested in attending, is available at $75 per person, age 19 and older. Additional fees cover certain meals and convention-related events, as well as separate activities for children and youth.
Although convention registration is open through the event's start date, housing registration should be completed by June 20 to guarantee a hotel reservation.
Planned convention highlights include:
a fellowship luncheon July 7 featuring Dr. Dale Meyer, president of Concordia Seminary, St. Louis, and former speaker of "The Lutheran Hour";
a first-ever "Outreach Expo" July 7, with opportunities to learn about servant and volunteer experiences;
a "Glorify the Lord" rally July 8, led by Dr. Ken Klaus, current speaker of "The Lutheran Hour," and featuring adult and children's choirs; and
"culmination" of "The Lutheran Hour's" 75th anniversary celebration with a July 8 banquet featuring Dr. Paul Maier and Dr. Walter A. Maier Jr. They will reflect on the years when their father, Dr. Walter A. Maier, was the radio program's first speaker.
Elections to the Int'l LLL's 2006 Board of Governors also will take place during the convention. Attendees who are members of Missouri Synod, Lutheran Church–Canada, or partner church congregations are eligible to vote.
For more information about convention registration, hotel accommodations, and travel arrangements, call (800) 876-9880, or click here.
Posted May 23, 2006