Note: Reporter cannot accept notices about items offered for sale or that people wish to purchase. Items described as "Wanted" or "Available" are sought or may be obtained for shipping costs only.
Available
Lutheran Worship hymnals, 1982 copyright (blue cover), 28 total, good condition; white (with gold metallic cross emblems) altar (38 x 72 inches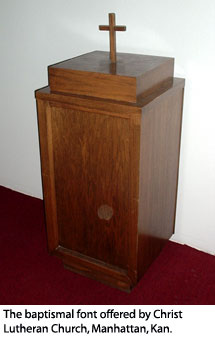 ), pulpit, and lectern paraments (both measuring 18 x 35 3/4 inches); 26 pair of new, tall candles; and seven boxes (four per box) of used short candles. Ida Getbehead on behalf of St. John's Lutheran Church, Rome, N.Y., at (800) 987-6631; ida@rtdmfg.com.
Used communion cup tray with cover (holds 50 cups); ciborium, and chalice, gray or silver in color. Rev. Timothy J. Henning, Peace Lutheran Church, Greensburg, Kan.; (620) 723-2300; oursaviorspeace@cox.net.
The Lutheran Hymnal, 1941 copyright, from fair to good condition, 60 total. St. Paul Lutheran Church, 132 6th Ave. S., Birmingham, AL 35205; (205) 324-2063.
Baptismal font, Jim Kroenlein, 1613 Denholm Drive, Manhattan, KS 66503; jimkay1@cox.net. (See photo.)
Green altar (two pieces, each 18 x 92 inches) and pulpit paraments (18 x 27 inches), and pastor's stole to match paraments. Good Shepherd Lutheran Church, 1407 Cedar Ave. N., Glencoe, MN 55336; (320) 864-6157.
Risograph TR 1510 and Xerox 5018 copiers. Both are in good working condition. The receiving party would need to pick them up. St. Paul's Evangelical Lutheran Church, P.O. Box 158, Butternut, WI 54514; (715) 769-3731; stpaul's@centurytel.net.
Altar, lectern, and pulpit, (wood, dark oak stain); 100 copies of The Lutheran Hymnal (pew edition, blue cover). Holy Trinity Lutheran Church, 1214 Broad St., Masaryktown, FL 34604; (352) 796-4066; htluth.lcms@juno.com.
Elementary school-size desks, approximately 40 total, and two teacher desks. Must be able to pick them up. First Lutheran Church, Fontana, Calif. Contact Sherry Shaw at (909) 823-3457.
Posted Aug. 15, 2006