Rev. William Ameiss, president of the LCMS Northern Illinois District, with offices in Hillside, Ill.,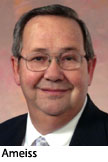 has been named recipient of the Lutheran Education Association's (LEA) 2006 Christus Magister (Christ the Master Teacher) Award.

LEA also announced that 12 educators are receiving other awards for 2006 — all nominated by peers in their area of ministry.

Ameiss is the 48th LEA member since 1965 to receive "this most prestigious LEA award," according to the LEA news release that also says it is "presented to Lutheran educators who have made significant contributions to Lutheran education."

Before he was first elected the district's president in 1997, Ameiss was its executive for youth ministry and parish education. The release notes that he "has been an active speaker and presenter in the areas of youth ministry, parish education, and family life at youth events, pastoral conferences, and educational conferences."

The news release also quotes an Ameiss colleague as saying, "His professional life has always expressed positive support for educational institutions of the church."

The other educators named to receive LEA awards are:
Distinguished Lutheran Early Childhood Administrator — Julian Petzold, director of School Ministries for Living Word Lutheran School and Early Childhood Center, Rochester, Mich.
Distinguished Lutheran Early Childhood Teacher — Drew Gerdes, kindergarten teacher at Springfield Lutheran School, Springfield, Mo.
Distinguished Lutheran Elementary Administrator — Robert Ziegler, principal of St. Michael Lutheran School, Fort Myers, Fla.
Distinguished Lutheran Elementary Teacher — Timothy Ernst, Trinity Lutheran School, St. Joseph, Mich.
Outstanding New Lutheran Elementary Teacher — Kurt Younghouse, Evansville Lutheran School, Evansville, Ind.
Distinguished International Teacher — Alice Smith, teacher and Grade 2 team leader, Sekolah Pelita Harapan, Lippo Karawaci, Indonesia.
Leader in Outreach — Roger Mailand, director of Family Life and youth and mission facilitator for the LCMS Missouri District, St. Louis.
Master Director of Christian Education (DCE) — Dr. Bill Cullen, director of the DCE program at Concordia University, River Forest, Ill.; and Dave Rahberg, DCE for Adult Ministries, Messiah Lutheran Church, Plano, Texas.
Outstanding New DCE — Lauren Luedtke, St. Mark's Lutheran Church, Eureka, Mo.
Master Director of Christian Outreach (DCO) — Phillip Johnson, DCO coordinator at Concordia University, St. Paul, Minn.
Distinguished Lutheran Secondary Educator — Darla Rosendahl, director of Guidance, who is also a teacher and administrator at Concordia Junior/Senior High School, Omaha, Neb.
Posted Feb. 15, 2006