Lutherans For Life (LFL) has produced a DVD that's designed to help people understand the basics of stem-cell research and cloning, and how G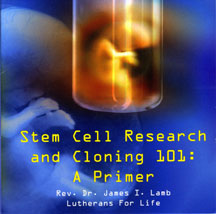 od's Word can be applied to those technologies.
Hosted by LFL Executive Director Dr. James I. Lamb, "Stem Cell Research and Cloning 101: A Primer" includes full-color illustrations and a study guide to encourage understanding and group discussions.
Lamb says the DVD presentation is not complicated or hard to understand, and presents just the "basics" of the technology.
The 38-minute DVD was produced by LFL, with funding from the Marvin M. Schwan Charitable Foundation, to help people:
understand the biology involved in stem-cell research and cloning.
learn how God's Word of law and Gospel applies to these issues.
grow in understanding that these are spiritual issues.
become informed so they can share their knowledge about the issues — and their faith — with others.
"While God's Word does not directly talk about stem cells or cloning, it has plenty to say about the very beginnings of life," Lamb says in a letter to pastors that's included with the DVD. "It has plenty to say about the value that God places on life as our Creator and Redeemer. Therefore, we can, and should, be discussing these things as God's people and learning how God's Word connects to them."
Lamb told Reporter that he hopes the DVD will be used "in a variety of congregational settings [such as] adult Bible study, senior and junior high-school youth groups, men's and women's groups — wherever an opportunity might arise.
"The issues of stem-cell research and cloning are receiving much attention in the public media," he said. "God's people need to see how the Word of Life applies to these issues. When they understand this connection, they can not only make biblically-informed decisions, but use discussion of these issues as an opportunity to introduce others to the Word of Life."
The DVD was mailed in October to congregations on LFL's mailing list, Lutheran leaders, Lutheran editors and media, and members of the National Pro-Life Religious Council. A limited number are available free from LFL.
Also available are three related brochures:
"The 3Bs of When Life Begins" (25 cents, item no. 1004T);
"Cloning: Understanding the Basics" (30 cents, item no. 1001T); and
"Stem Cell Research: Understanding the Basics" (30 cents, item no. 1000T).
To order any of the above resources, contact LFL at (888) 364-LIFE (5433) or orders@lutheransforlife.org. Or visit the LFL Web site at www.lutheransforlife.org. (Prices do not include shipping and handling charges.)
Posted Nov. 10, 2006