By Kim Krull
The woman who lost everything in the fire that devastated a Concordia Lutheran Ministries retirement building in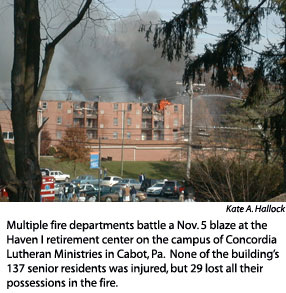 Cabot, Pa. — yet donated $100 to help fellow homeless residents — is just one example of these senior citizens' strength and resilience.
"Many of these people already have been through so much in their lives full of faith — deaths, catastrophes, and even a couple of world wars. No one panicked. Everyone showed unbelievable calm and resilience," Concordia President and CEO Keith Frndak said of the 137 people forced from their independent living apartments by the Nov. 5 blaze.
Twenty-nine senior citizens who lived on the third floor lost all their possessions. Forty-five residents have no insurance to replace clothing, furniture, and other belongings. The fire — battled by more than 100 firefighters from 16 local companies — caused at least $15 million in damages.
But blessings abound despite losses at the complex, about 30 miles north of Pittsburgh. Every Haven I resident, whose average age is 83, escaped without injury. Many were off campus attending Sunday morning worship when a still undetermined cause sparked the inferno.
Their absence made for an orderly evacuation but also challenged accounting for everyone's safety. "It was 8 o'clock that night before we could absolutely account for all the residents," Frndak said.
Another blessing: The displaced residents are being housed in a new skilled nursing facility that was about to open on the Concordia campus.
"We are very blessed that we have a 129,000-square-foot building that we were going to start filling with patients but can use as rooms for these people," said Frndak, referring to the new Lund Care Center Expansion.
Concordia donated a $500 stipend to each displaced resident to use for immediate necessities. Plans are to rebuild the destroyed building, one of several ministry facilities that houses or provides care for some 800 senior citizens.
The community and area congregations quickly responded to the fire with offers of donated clothing and financial and volunteer help. LCMS World Relief/Human Care is coordinating the national LCMS response and has established a fund to assist the uprooted residents.
Before Frndak agreed to the fundraising appeal, however, the executive stressed that no efforts on behalf of Concordia diminish mission efforts. The social ministry organization is best known for senior citizen care but also is strongly committed to outreach, supporting an inner-city soup kitchen and making a recent $240,000 gift to LCMS World Relief/Human Care for orphanages and medical needs in Africa.
"As our ministry has grown and flourished, we made the stewardship decision to share our blessings with the church at-large," Frndak said. "It's very important to us that help given to our residents takes nothing from the mouths of starving children."
LCMS World Relief/Human Care's Rev. Carlos Hernandez, who contacted Concordia to offer emergency assistance, called Frndak's concern about mission outreach "a disaster first."
"They are looking beyond their own needs to care for others, even after a catastrophic fire," Hernandez said.
This year marks the 125th anniversary of Concordia, the country's 78th largest senior independent living provider, according to Public Relations Director Shirley Freyer. She, too, praises the fire victims' calm and positive attitude.
"Many of these people suffered some big losses. They are out of apartments, where many have lived for years, but no one is complaining," Freyer said.
Instead, one older adult told Freyer: "I'd been wanting to downsize, and the Lord did it for me."
Concordia needs no more donated clothing. To help ease the losses of displaced residents, make a gift through LCMS World Relief/Human Care designating "Concordia Haven Fire Victims" in the check memo line, and send to LCMS World Relief/Human Care, P.O. Box 66861, St. Louis, MO 63166-9810; call the credit-card gift line toll-free at (888) 930-4438; or donate online at http://givenowlcms.org.
Posted Dec. 4, 2006