Rev. Terry Forke of Columbia Falls, Mont., was elected on the fourth ballot to his first term as president of the LCMS Montana District, at its convention Ju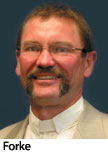 ne 19-22 in Billings, Mont.
He and other elected officials were installed during the convention.
Forke, 50, pastor of Redeemer Lutheran Church, Columbia Falls, since 1993, was the district's incumbent first vice president. As president, he succeeds Dr. George Wollenburg, who was not re-elected.
Wollenburg served as Montana District president at two different times — from 1969 to 1977, and from 1992 until this year's convention.
Convention delegates also elected Rev. Arlo Pullmann of Laurel, Mont., first vice president, and Rev. Richard Thompson, Billings, Mont., second vice president.
Among resolutions adopted, one asks Montana District officers to meet with representatives of the LCMS Wyoming District to consider forming a single Montana-Wyoming District. In his report to the convention, Wollenburg pointed out that there is preliminary interest in such a combined district.
Another adopted resolution memorializes the 2007 Synod convention to amend Synod Bylaw 3.1.7. The proposed wording specifies that Synod convention floor committees would be appointed by a committee of the Synod president and four district presidents, rather than by the president only, as the bylaw presently states.
Delegates also adopted separate resolutions that memorialize the 2007 Synod convention to adopt two opinions of the LCMS Commission on Constitutional Matters. One of those has to do with dissent over Synod doctrinal resolutions. The other speaks to whether those who teach contrary to Synod doctrinal positions should remain members of the Synod if they do not stop such teaching.
Two other adopted resolutions memorialize the 2007 convention to overrule CCM opinions on ecclesiastical supervision and on whether a congregation may host a communion worship service at a convention in another district without the approval of the president of the district where the service would be held.
The convention noted two anniversaries this year — 120 years since Missouri Synod mission work started in Montana and the 60th anniversary of the Montana District.
Posted June 29, 2006