Lutherans For Life (LFL) and LCMS Life Ministries are offering an array of resources to help congregations and other groups observe "Sanctity of Human Life Sunday" on Jan. 21. The materials also are suitable to use any time of the year.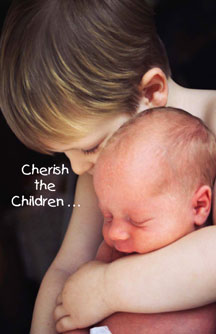 Life Sunday is held on the Sunday closest to the anniversary of the Jan. 22, 1973, decision of the U.S. Supreme Court that legalized abortion.

"Cherish the Children" is the theme for LFL's 2007 Life Sunday materials that may be ordered through the Nevada, Iowa-based organization's Web site at www.lutheransforlife.org.

Orders also may be placed by contacting LFL at (888) 364-LIFE (5433) or send an e-mail to orders@lutheransforlife.org.

Life Sunday materials from LFL include:
bulletin inserts, at 7 cents apiece.
a "Cherish the Children" Life Sunday CD ($5) with five sermons, a reproducible worship-service format, a reproducible memorial service for the pre-born killed since 1973, a children's message, and an article on Matt. 18 by Professors Jeffrey Gibbs and Jeffrey Kloha of the Concordia Seminary, St. Louis, faculty.
Bible studies — "The Gift of Children," by Dr. Jean Garton (25 cents); and Life Studies (volume one), a collection of some of LFL's classic Bible studies, updated and now in a reproducible format ($10).
booklets and brochures such as "Adoption: Finding a Family for a Child" (25 cents), "What is Real Love?" (25 cents), "Generations of Hope for Generations to Come" ($2), "Speak Up For Life" (35 cents), and "A Lutheran Catechism on Abortion and Life" ($1).
The Faith of Unborn Children, a book by Johann Georg Walch ($4.95).
DVDs — "For Life" ($5) and "Choosing Life" ($15), and the music CD "Just Imagine" ($8).
God's Word For Life, the study Bible that can be used by anyone involved in the pro-life movement — paperback ($15) and hardcover ($20).
In a letter about the resources, Dr. James I. Lamb, National LFL executive director, points out that LFL's Life Sunday materials will help share the "cherish the children" message and apply it to "the unborn, the pregnant teen, post-abortive women and men, and those dealing with end-of-life concerns."
LCMS Life Ministries is offering free resources that address post-abortion grief and healing. The materials are a tool that can help congregations reach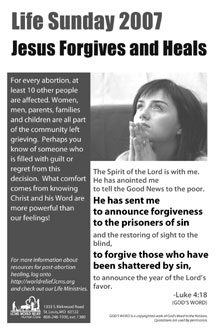 out to what LCMS Life Ministries Director Maggie Karner calls the "millions who suffer in silence."
"It's estimated that as many as one in every five people you know are afraid to tell you about their involvement in an abortion decision in the past and their secret pain," said Karner, who leads sanctity of life efforts as a ministry of LCMS World Relief/Human Care. "Our churches cannot ignore this issue because it can become a deep spiritual problem."
A new bulletin insert on post-abortion healing and a sermon based on the Synod's suggested readings are among the many free, downloadable education and worship resources available online at http://worldrelief.lcms.org.
Also available are a psalmody written by the Commission on Worship and hymn suggestions, including selections from the new Lutheran Service Book. The site also links to Bible studies, books, and additional resources, including those available from Lutherans For Life.
Posted Dec. 4, 2006