Meeting April 28-29 in Norman, Okla., delegates to the 45th convention of the Synod's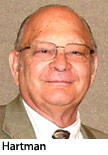 Oklahoma District elected Rev. Paul A. Hartman of Oklahoma City, Okla., to his first full term as president.
Formerly the district's first vice president, Hartman became president in 2004 when former district president William Diekelman was elected LCMS first vice president. Hartman, 67, served the remainder of Diekelman's term. He had served as the district's first vice president since 1991.
Delegates re-elected Rev. Velmer H. Goebel of Enid, Okla., as the district's first vice president, and elected to their first terms:
Rev. Barrie E. Henke of Edmond, Okla., second vice president; and
Rev. Myles R. Schultz of Okmulgee, Okla., third vice president.
The convention theme — "One Mission: Oklahoma Hearts Ablaze! Sharing the Light of Christ's Word, Sharing the Warmth of Christ's Love, Sharing the Cleansing of Christ's Forgiveness" — was reflected in the opening worship service and in Bible studies led by district officers. Synod President Gerald B. Kieschnick preached at the opening service, and former Oklahoma District President William Diekelman preached at a memorial service the following evening.
Also addressing the convention was Dr. Paul Grime, executive director of the Synod's Commission on Worship, who introduced the new LCMS worship resource, Lutheran Service Book.
Among resolutions adopted, delegates voted to:
support the Synodwide Ablaze! initiative and to participate in its fund-raising component, Fan into Flame, in 2007.
encourage the district, its congregations and members, to get involved in Ablaze! and to set their own Ablaze! goals.
share outreach stories through the district evangelism secretary.
urge circuits to use their 2008 convocations to offer training in personal outreach.
ask the district's board of directors to appoint a relief coordinator to oversee the district's response to Hurricane Katrina and other disasters.
encourage appreciation for Sunday-school workers and recommend that the district sponsor a conference on teaching strategies.
ask the district board of directors to set up a committee to explore ways to minister to young adults.
encourage congregations to support campus ministry and to send their students' names to campus pastors.
ask each congregation to send at least two members to the Synod's National Youth Gathering in 2007.
encourage participation in local, national, and overseas servant events.
Posted May 7, 2006