On the first ballot, delegates to the LCMS Pacific Southwest District convention, June 25-2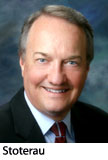 7 in Irvine, Calif., re-elected Dr. Larry Stoterau of Orange, Calif., to his third term as district president.

Stoterau and other officers were installed during the convention.
Elected to district vice presidencies were Rev. Roger Sonnenberg, Arcadia, Calif., first vice president; Dr. Kevin Wyssmann, Gilbert, Ariz., second vice president; Rev. Steven Carlson, Manhattan Beach, Calif., third vice president; and Rev. Richard Dannenbring, La Habra, Calif., fourth vice president.

Theme for the 41st regular Pacific Southwest convention was "Hearts on Fire," based on Luke 24:32.
Delegates adopted a resolution to change the district bylaws concerning the makeup of the district's Board of Directors –- from nine clergymen, five laypersons, and two commissioned ministers to six clergymen, six laypeople, and four commissioned ministers. Instead of being elected at-large, as has been the case, the board members will be elected to represent the district's four regions.

Also approved was a resolution to establish a district standing committee for youth ministry. Prior to this year's convention, the district bylaws did not include provision for a district youth-ministry entity.

Aiming to increase the number of pastors available for Pacific Southwest congregations by offering seminary education in the district, delegates adopted a resolution that calls for establishing a Master of Divinity degree program at Concordia University, Irvine.

The resolution notes that trends indicate a sharp decline in the number of pastors in the Synod for years to come, while district ministries and the need for Gospel outreach continue to grow. It also points out that there is currently no LCMS seminary program on the West Coast, which might hinder those from the district who would like to prepare for the pastoral ministry.
Another resolution adopted by Pacific Southwest delegates calls for the LCMS Commission on Theology and Church Relations to review and clarify Article 43 (on the Antichrist) of "A Brief Statement of the Doctrinal Position of the Missouri Synod," which was adopted in 1932.
That resolution states that some readers of the article on the Synod's Web site about the "Brief Statement" have been confused over what it says about the pope being the Antichrist. The action states that a CTCR study is needed to better explain the "historical and theological context" of Article 43.
Delegates also adopted a resolution asking the 2007 Synod convention to clarify the LCMS Commission on Constitutional Matters' "Guidelines for the Constitution and Bylaws of a Lutheran Congregation." At issue are congregations that wish to use in the confessional standards of their constitutions descriptive words such as "inspired," "inerrant," or "revealed," as they apply to Holy Scripture. Since such terms "go beyond" the confessional standards of the Synod, the guidelines do not currently allow their use.
Posted July 5, 2006