Dele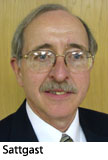 gates to the 57th convention of the Synod's South Dakota District, meeting June 18-21 in Sioux Falls, S.D., elected a new president — Rev. Dale L. Sattgast of Huron, S.D.
Sattgast, 56, was elected on the second ballot. He has served as pastor of Mount Calvary Lutheran Church in Huron for 19 years. As district president, Sattgast succeeds Dr. Vernon Schindler, who was not re-elected after serving in the post for eight years.
Also elected were:
Rev. Gene D. Bauman of Spearfish, S.D., first vice president, and
Rev. Nabil Nour, Armour, S.D., second vice president.

Sattgast and the other elected officers were installed at the convention.
Among adopted resolutions, delegates voted to:
continue district support of LCMS Missionary Amy Kashenov, who serves in Kazakhstan.
ask the Synod's 2007 convention to reconsider a number of issues, including further discussion and/or clarification on joint worship practices, what offices in the church women may hold in light of the doctrine of the order of creation, and the rulings of the LCMS Commission on Constitutional Matters (CCM) and the process by which CCM members are chosen.
realign the district's circuits in order to comply with LCMS requirements and avoid having to request that exemptions be granted for electoral circuits. The resolution also establishes a committee to study population trends and make further recommendations to the next district convention in 2009.
LCMS Second Vice President Dr. Paul Maier served as essayist, focusing on the convention theme "Courageous Faith — Bold Witness," from Acts 4:31.
Posted June 22, 2006