Concordia Publishing House in January released Matthew 1:1-11:1, the latest volume in its Concordia Commentary: A Theological Exposition of Sacred Scripture series.
The series is designed to "enable pastors and teachers of the Word to proclaim the Gospel with greater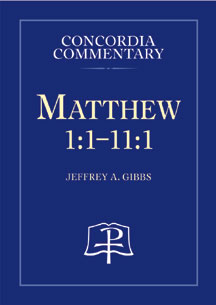 insight, clarity, and faithfulness to the divine intent of the biblical text." Its goal is to cover all the canonical books of the Old and New Testaments.
The new commentary was written by Dr. Jeffrey A. Gibbs, professor of exegetical theology and academic adviser for first-year students at Concordia Seminary, St. Louis. Gibbs signed copies of the new book at a Jan. 10 reception at the seminary. Speakers at the reception included Gibbs, seminary President Dale A. Meyer, CPH President Bruce Kintz, and Dr. James Voelz, dean of faculty at the seminary.
"Jeff blends beautifully grammatical analysis and theological interpretation in a way that is, frankly, exemplary," Voelz said of the new volume. "His treatment of the Sermon on the Mount is 'worth the price of admission' alone. As his former teacher and current colleague, I couldn't be more pleased personally for his accomplishment."
Matthew's Gospel presents Jesus of Nazareth as the Christ long promised in the Old Testament. In Matthew 1:1-11:1, author Gibbs uses a narrative approach that examines the literary structure of Matthew's unfolding message and interprets individual texts with an eye to their relationship to that overall structure.
Themes that receive particular emphasis in the book include:
Jesus' mission to save His people from their sins.
The reign of God in Jesus.
The Son of God's vicarious role as substitute for Israel and for us.
Jesus' fulfillment of the Old Testament.
Jesus' ministry of "mighty word" (preaching, calling disciples, teaching) and "mighty deed" (healing the sick, exorcising, raising the dead).
How God's grace in Jesus now comes to us through Word and Sacrament.
Eschatology — that the end times have begun already with Jesus' ministry and the Christian lives with joyful hope in the promises yet to be fulfilled on the Last Day.
Matthew 1:1-11:1 is the 12th volume in the Concordia Commentary series. Other titles in the series are:
Leviticus,
Joshua,
Ruth,
Song of Songs,
Ezekiel 1-20,
Luke 1:1-9:50,
Luke 9:51-24:53,
1 Corinthians,
Colossians,
Philemon, and
Revelation.
To order Matthew 1:1-11:1 ($42.99, item no. 15-6017WEB) — or any of the Concordia Commentary volumes — visit the CPH Web site at www.cph.org or call (800) 325-3040. (Price quoted does not include shipping charges.)
Posted Feb. 9, 2007