By Paula Schlueter Ross
The number of graduate students attending Concordia University System (CUS) schools rose by more than 35 percent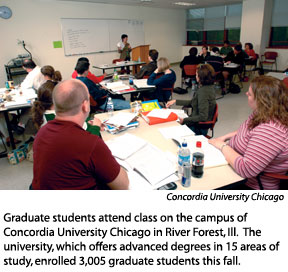 in the past year, continuing a dramatic climb that has pushed the total fall "headcount" at CUS schools to new record-setting highs each year since 2002.
This fall is no different, with LCMS colleges and universities reporting a total of 21,839 students enrolled in both graduate and undergraduate programs. That figure represents an increase of 1,748 students, or nearly 9 percent, since fall 2006.
Of the total enrollment, 9,035 are graduate students — an increase of 2,374 students. Almost a third of this year's grad students — 3,005 — attend classes offered by Concordia University Chicago at more than 65 sites, mostly public elementary and high schools in the greater Chicago area.
"This fall marked the third consecutive semester of record-breaking total enrollment" for the school, which now serves 4,126 students, noted President John F. Johnson.
The "key" to the school's growth, he told Reporter, "continues to be offering quality programs, consonant with our mission, and delivering those programs in innovative ways."
Concordia-Chicago offers advanced degrees in 15 areas of study, including Christian education, curriculum instruction, school leadership, community counseling, and human services, and this fall introduced a master's degree in gerontology.
Only two of the 10 CUS schools — Concordia College, Bronxville., N.Y., and Concordia College, Selma, Ala. — did not see increases in enrollment this year. They also are the only two that do not offer graduate programs.
Concordia, Selma — the country's only historically Black Lutheran college — saw a 34 percent drop in its enrollment, primarily because it eliminated its satellite programs, which offered undergraduate courses to students in other communities, according to Dr. Kurt Krueger, executive director of the Synod's Board for University Education and president of the CUS.
The school also lost its longtime president, Dr. Julius Jenkins, who retired July 31 after serving 27 years in the post. Jenkins had overseen years of growth at the school, which included several successful capital campaigns and the construction of new buildings.
A new chief executive officer, Dr. Portia Shields, began work there last month, and Krueger says he is confident that Shields, along with Interim President Dr. McNair Ramsey, will "take Selma into the future, into a positive future."
The CUS schools with the highest enrollments this fall are located in Mequon, Wis. (5,933 students); River Forest, Ill. (4,126); Irvine, Calif. (2,392); and St. Paul, Minn. (2,260).
Overall, Krueger says he is "very, very pleased that our schools continue to do so well and to increase the number of students on their campuses,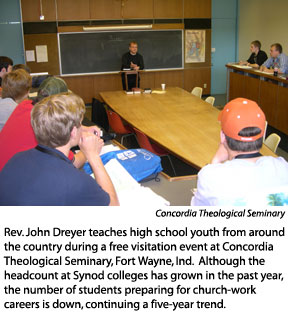 in spite of the competition that all of our schools face, and in spite of the continuing costs of a college education."
CUS tuition ranges from a high of $23,496 per year at Concordia, St. Paul, to a low of $6,326 per year at Concordia, Selma. The average CUS tuition is $19,444 per year — about $1,500 less than the national average for four-year private institutions, according to Krueger.
"We also provide generous scholarship help," he said. "Last year our schools provided in total almost $70 million in scholarships and financial aid," not counting loans. The average CUS student's tuition is discounted by about 40 percent, Krueger said.
CUS schools also offer "high-quality education," he said, particularly in preparing teachers. "Many of these grad students are teachers who understand quality teaching and understand that if they go to a Concordia … they're going to get instruction from master teachers that will enable them to become better teachers themselves."
The "bad news" in this fall's enrollment statistics is the 8 percent drop in church-work students, from 2,406 to 2,237, or 169 fewer this year than last. Since 2002, total CUS enrollment in church vocations has fallen steadily each year.
Krueger admits there is a "desperate need for pastors and teachers." One-third of the teachers serving LCMS elementary, secondary, and preschools aren't Lutheran, he says, and another third are not on the LCMS roster.
"Frankly, what it takes is for pastors and teachers to talk to kids they know and encourage them — that's the best way to recruit church workers, that personal contact from a pastor or teacher who loves what he or she is doing," Krueger said.
This year's 2,237 church-work students include 1,294 teachers (down 8), 356 directors of Christian education (down 64), 326 pre-seminary (down 42), 152 lay ministers (down 17), 35 directors of family life ministry (down 25), 33 directors of parish music (up 2), 21 deaconesses (down 6), 20 directors of Christian outreach (down 9).
Also down is the number of LCMS students attending CUS schools — that figure fell from 4,878 in 2006 to 4,841 this year, a drop of 37 students, or 1 percent. The number of "other Lutherans" rose, though — from 1,261 to 1,466, an increase of 205 students, or 16 percent.
This fall's enrollments (including undergraduate and graduate students) at individual CUS schools are as follows:
Concordia University, Ann Arbor, Mich., 1,075 (an increase of 339 students, or 46 percent, over fall 2006).
Concordia University Texas, Austin, 1,835 (up 569, or 45 percent).
Concordia College, Bronxville, N.Y., 744 (down 8, or 1 percent).
Concordia University, Irvine, Calif., 2,392 (up 75, or 3 percent).
Concordia University Wisconsin, Mequon, 5,933 (up 359, or 6 percent).
Concordia University, Portland, Ore., 1,644 (up 46, or 3 percent).
Concordia University Chicago, River Forest, Ill., 4,126 (up 416, or 11 percent).
<A class="" href="http://www.concordiaselma.edu/"