Laurence E. "Larry" Lumpe, president of the Board of Governors of Concordia Historical Institute (CHI), Nov. 8 received the institute's Distinguished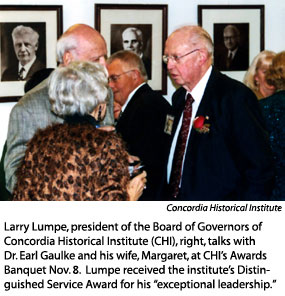 Service Award.
Lumpe, who also served as CHI's vice president for nine years, was presented with the institute's highest honor for his "exceptional leadership." Among his current duties, Lumpe serves as development officer for the Museum and Building Expansion Project, which plans to open an LCMS museum at the International Center in St. Louis. The museum is expected to be completed next year.
Also presented at CHI's 33rd Annual Awards Banquet, held on the campus of Concordia Seminary, were Awards of Commendation for 16 works published in 2006.
By category, the honorees are:
Major Publications — Mary Beth Mueller Dillon of Indianapolis for Wittenberg, Missouri; Dr. Richard Baepler, Valparaiso, Ind., for Witness to His Generation: Selected Writings of John Strietelmeier; Dr. Norman J. Threinen, Summerland, British Columbia, for Religious-Cultural Mosaic: A History of Lutherans in Canada; Dr. Joseph M. Menius, St. Louis, for Menius—Open to Change: A Biographical Historical Sketch of the Menius Name.
District or Regional Histories — Michael J. Doyle, Upland, Calif., for Feed My Sheep: A History of the Hispanic Missions in the Pacific Southwest District of The Lutheran Church—Missouri Synod; Norwegian Grove Lutheran Church, Gaylord, Minn., for its 125th anniversary booklet; St. Peter's Evangelical Lutheran Church, Fair Haven, Mich., for St. Peter's Evangelical Lutheran Cemetery: Established 1881; Sandra Lee Harper, Baltimore, for Martini Lutheran Church: Chapter and Verse; Dr. C.T. Aufdemberge, Flagstaff, Ariz., for They Had a Good Band.
Journal Articles — Dr. William R. Cario, Mequon, Wis., for "One Blessing After Another: A History of Concordia University Wisconsin," Concordia Historical Institute Quarterly, Summer 2006; Dr. Albert Collver, St. Louis, for "Lay Elders — A Brief Overview of their Origin in the Missouri Synod: Implications for Elders Today," Concordia Journal, January 2006; Rev. Benjamin T.G. Mayes, St. Louis, for "Reconsidering Grabau on Ministry and Sacraments," Lutheran Quarterly, Summer 2006; Rev. Rolf Preus, Mayville, N.D., for "The Old Ministry Debate in the Synods of the Synodical Conference and in the Evangelical Lutheran Synod Today," Pieper Lectures, Vol. 10; and Rev. Jon Vieker, St. Louis, for "Who from Our Mothers' Arms: The Story of the Hymnals that Came before Us," Concordia Historical Institute Quarterly, Spring 2006.
CHI is accepting nominations for recognition at next year's awards ceremony. The institute, which is the Synod's Department of Archives and History, is located on the campus of Concordia Seminary, St. Louis. To download an awards nomination form, visit CHI's Web site at http://chi.lcms.org.
Posted Nov. 29, 2007