By Kim Krull

It was just about two years ago that Rev. Eric Hollar's home filled with four feet of water, his church sustained major damage and, almost overnight, his Biloxi, Miss., ministry ballooned to include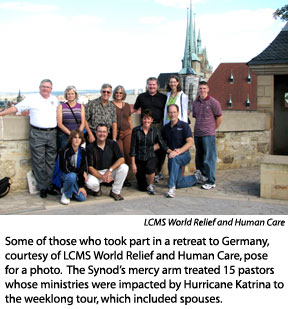 many more homeless and hungry people than he probably ever imagined.
But when LCMS World Relief and Human Care invited Southern District pastors whose congregations and communities have been — and continue to be — impacted by Hurricane Katrina to a retreat in "Luther land," Germany, the Good Shepherd Lutheran Church pastor needed a nudge from his spouse, Corinna, to take time off.
"My wife pointed out that this was a once-in-a-lifetime opportunity and that the thought of seeing in person where Lutheranism started was very exciting," Hollar said. "It would also give us a break from the hectic pace that (since Katrina) has become normal for us."
Corinna Hollar is not a counselor certified in the effects of secondary trauma. But, like the Synod's mercy arm, she understood that the approaching two-year anniversary of one of the country's most devastating natural disasters might be a good time for a respite for pastors whose ministries have been dramatically changed — and challenged — by Katrina.
"Pastors are at enormous risk because they are constantly providing care for those who have been hurt by the storms of life," said Dr. Bryan Salminen, an LCMS pastor, licensed professional counselor, and family therapist who led daily sessions on stress, personal/professional boundary issues, and the importance of a healthy marriage at the July 30-Aug. 8 retreat. "Research indicates that those who work in horrific situations such as Katrina are much more prone to burnout and having other emotional and physical problems arise if their emotional needs are not attended to."
Just as Luther struggled with "hurricane-like issues" and remained strong in Christ, said Salminen, who is pastor at Emmanuel Lutheran Church, Cadillac, Mich., one retreat goal was to energize, motivate and strengthen pastors for continued ministry.
But the greater purpose was to say "thanks."
"More than anything else, we wanted to show to these men and their wives, who have suffered so much and served so faithfully, that their church loves them and deeply appreciates their sacrifice," said Rev. Matthew Harrison, executive director of LCMS World Relief and Human Care.
LCMS World Relief and Human Care invited more than 70 "Katrina pastors" to the retreat. The first 15 to respond enjoyed an all-expenses paid respite for them and their spouses.
Many pastors said the trip marked the first time since Katrina that they had stepped away from the demands of hurricane recovery.
"We haven't finished cleaning up our own house because we have been so busy helping others," said Dr. Robert Belknap, pastor at Zion Lutheran Church, Bogalusa, La., whose church and home both suffered Katrina damage.
Walking in the footsteps of Martin Luther and visiting sites in Wittenberg and other nearby cities proved "absolutely energizing," said Belknap. "I feel I have more to put into it (ministry challenges) after what I got out of this (retreat)."
Belknap and others stressed they appreciated that their spouses — so often their partners in post-hurricane ministry — also were invited to the respite.
Rev. Kelly Bedard, former pastor at Grace Lutheran Church, Houma, La., said pastors' wives are like Katie Luther — often "forgotten and underappreciated and, in reality, such driving forces and influences."
When Hurricane Rita (which followed Katrina) dumped as much as 11 feet of water in 11,000 homes south of Houma, Bedard left the parish to form Bayou Grace Community Services. Today, the nonprofit helps people struggling with post-hurricane needs, including poverty, isolation, and substance and domestic abuse.
"I feel like a new person — and on so many levels," Bedard said after returning from Germany with his wife, Julie.
In addition to Salminen's sessions, retreat participants joined in devotions and excursions led by Dr. Lawrence Rast of Concordia Theological Seminary, Fort Wayne, and Dr. Jeffrey Gibbs of Concordia Seminary, St. Louis.
LCMS World Relief and Human Care Deaconess Rachel Mumme, who is based in Germany, served as coordinator. Also taking part were two ministry directors who continue to assist Gulf Coast congregations and communities struggling to rebuild homes and lives — Rev. Glenn Merritt, the ministry's director of Disaster Response, and Rev. Carlos Hernandez, director of Districts and Congregations.
After the retreat, many pastors said they felt recharged for needs and challenges that are expected to continue for at least another decade and longer. "This disaster isn't over, not by any stretch of the imagination," said Rev. David Goodine, pastor of St. Paul Lutheran Church, New Orleans.
During an especially tense Katrina episode two years ago, Goodine turned the church into an emergency refuge and braved the storm with about 60 others. Since then, St. Paul has lost about half its congregation, and the pastor has gained new ministry hurdles. Topping that long list is his congregants' increased incidence of anxiety, sickness, and mortality in a city dangerously short on emergency rooms and hospital beds.
"After two years, yes, I think there was a feeling (among the retreat pastors) that we all needed a break," Goodine said. "It was helpful to get together, compare notes, and see where everyone is in this process that is very long-term."

LCMS World Relief and Human Care is seeking funding for a second retreat for more Katrina-impacted professional church workers. Donors can help enable a church worker and spouse to participate by sending their gifts, earmarked "respite retreats for pastors," to LCMS World Relief and Human Care, P.O. Box 66861, St. Louis, MO 63166-9810; the credit-card gift line at (888) 930-4438; or online at www.givenowlcms.org. For more information, contact Hans Springer at (800) 248-1930, Ext. 1693.
Posted Aug. 29, 2007