Two Lutheran Church–Missouri Synod pastors were among four who received the Christus In Mundo award at a Feb. 8-11 conference in San Antonio. The award is the highest honor granted for distinguished service by the Inter-Luthera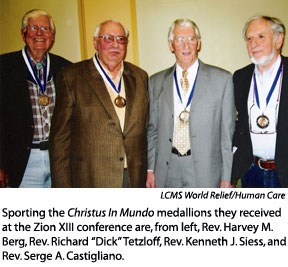 n Coordinating Committee (ILCC) for Ministries in Chaplaincy, Pastoral Counseling and Clinical Education.
The ILCC is a joint committee of the LCMS Board for Human Care Ministries and the Vocation and Education program unit of the Evangelical Lutheran Church in America (ELCA).
The LCMS pastors honored at the Zion XIII conference were:
Rev. Kenneth J. Siess of St. Paul, Minn., an Association for Clinical Pastoral Education (ACPE) supervisor who previously served on the faculty of Concordia Seminary, St. Louis; as director of chaplaincy and Clinical Pastoral Education at the University of Minnesota Hospitals and Clinic; and as director of chaplaincy with Lutheran Social Service of Minnesota.
Rev. Richard "Dick" Tetzloff of Hackensack, Minn., former director of Specialized Pastoral Care and Clinical Education for the LCMS and former executive director of Lutheran Ministries Association, St. Louis.
Also receiving the award were two members of the ELCA:
Rev. Harvey M. Berg of Waukesha, Wis., former director of pastoral care for St. Luke's Medical Center, Milwaukee, and an ACPE supervisor. Berg retired as a chaplain colonel after serving in the U.S. Army Reserve.
Rev. Serge A. Castigliano of Putnam, N.Y., who served as the ELCA's director of Specialized Pastoral Care and Clinical Education and is now an ACPE supervisor at the Eger Health Care Center, Staten Island, N.Y.
About 170 participants attended the 13th triennial conference, which marked the event's 40-year anniversary. Rev. John Fale, associate executive director of LCMS World Relief/Human Care, served as program emcee.
The Zion conference tradition began in 1967 in Zion, Ill., to offer an opportunity for personal reflection and renewal for professionals who serve others and to highlight the importance of ministries in specialized settings. The conference was made possible by grants from Thrivent Financial for Lutherans and the ILCC.
Posted March 14, 2007