By Paula Schlueter Ross
The May 2 funeral of New York State Trooper David Brinkerhoff was "powerful" on many levels, according to Rev. Mark Mueller, Brinkerhoff's pastor at Bethlehem Lutheran Church in Delmar, N.Y.
Thousands of police officers —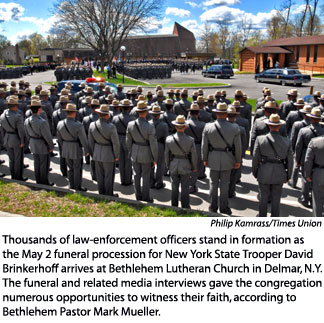 some from across the country — "lined the street as far as the eye could see," Mueller told Reporter in an e-mail interview.
As the funeral procession, led by a police drum-and-bagpipe corps, made its way from the funeral home to the church, townspeople stood outside offices, schools, and homes along the way, waving flags or standing with their hands over their hearts as a symbol of respect for Brinkerhoff, 29, who was killed by a fellow trooper's bullet during a shootout with a fugitive a week before.
Eulogists included Brinkerhoff's relatives and area dignitaries, including Gov. Eliot Spitzer, who said Brinkerhoff's "'superb demeanor' earned him the fondness of people — even if he was giving them a traffic ticket," according to an Associated Press story in the Tonawanda News.
With extra chairs and a live "video feed" to the church's fellowship hall, some 1,000 people were able to see and hear Pastor Mueller's words — also carried in several newspaper and TV news accounts — about God's love in response to tragedy.
"The invitation that God gives to each of you today — including many of you law enforcement officers who will leave this place and place yourselves in harm's way for others — is to know that no matter what this life may bring, and even if, yes, when this life is taken from you, there is eternal life in heaven for those who have faith in Jesus Christ, where there is no more death or grieving or crying or pain," Mueller said at the funeral.
"That's why David was who he was and did what he did. As we spoke at the beginning of this service, David's faith that came from God was infused in him in his baptism, defining who David was as a person — a child of God.
"David bore the fruit of that faith, lived that life of friendship, humbly serving others before himself, and finally making the ultimate sacrifice, all because God first did that for him."
Mueller told Reporter that "people who aren't even connected to the church have called, written, and spoken about how the service gave them hope. Being open to media coverage allowed us to speak to so many people."
Brinkerhoff's mother, Karen Howard, "spoke to a local television station and forgave the trooper who [accidentally] shot David and wanted very much to reach out to him," said Mueller. "She also reached out to the [family of the fugitive, who also died], reminding people that his mother also lost a son. These words were carried across the state."
Mueller says the Bethlehem congregation has "seen the power of God's hand at work. As people were in the kitchen cooking and cleaning, troopers were asking questions about the church and Lutherans, and people were sharing their faith."
All that witnessing would have suited Brinkerhoff, who "was a person of deep faith and love," according to Mueller. The young trooper and his wife, Barbara Anne, encouraged the couple who introduced them to also worship at Bethlehem. That couple, like the Brinkerhoffs, wed there and joined the congregation.
David Brinkerhoff was remembered at his funeral as "an officer who ran toward danger and a big-hearted friend who loved to laugh," according to the AP story. "He danced. He laughed, and at times he embarrassed others around him, but never himself," said his older brother, Michael Brinkerhoff. "He was having too much fun."
When his 8-month-old daughter, Isabella, was born with health problems, "David spent more than one night on the hospital floor below Isabella's crib," Mueller said. "He was a dedicated husband and father through and through." At home, Brinkerhoff often took care of the baby's early-morning feedings so his wife could sleep.
"David himself never complained when faced with adversity or hardship in his life," Mueller told mourners. "'It is what it is, and we are a family and we will get through it together,' was his philosophy."
The trooper also "would have forgiven anyone who had anything to do with his death," said the pastor, repeating what Brinkerhoff's wife, Barb, had told him. "Because that is the kind of faith you know he had."
In a letter written to her husband and read at the funeral, Barb Brinkerhoff said she and daughter Isabella "will miss you more than you could ever imagine, but I have no regrets …. You died doing what you loved doing."
Posted June 5, 2007