A two-hour primetime television special, "In God's Name," featured interviews with a dozen religious leaders in "intimate settings," such as their homes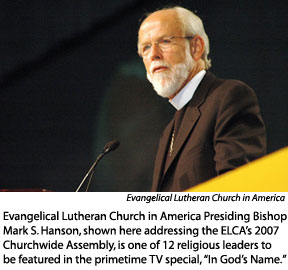 and places of worship. The program aired Dec. 23 on CBS.
Produced by French filmmakers Jules and Gedeon Naudet, the special explored "complex questions of our time through the intimate thoughts and beliefs of 12 of the world's most influential spiritual leaders," according to a news release. The spiritual leaders spoke out about violence and hatred and revealed their own thoughts about faith, peace, unity, tolerance, and hope.
Those featured in the program are:
Alexei II, patriarch of Moscow and leader of the Russian Orthodox Church.
Amma (Mata Amritanandamayi), a Hindu spiritual leader.
Pope Benedict XVI, leader of the Roman Catholic Church.
The Dalai Lama (Tenzin Gyatso), spiritual leader of Tibetan Buddhists.
Dr. Mark S. Hanson, presiding bishop of the Evangelical Lutheran Church in America and president of the Lutheran World Federation.
Ayatollah Muhammad Hussein Fadlallah, a Shi'ite Muslim leader.
Michihisa Kitashirakawa, Jingu Daiguji, high priest of the Shito Grand Shrine of Ise.
Yona Metzger, Ashkenazi chief rabbi of Israel.
Dr. Frank Page, president of the Southern Baptist Convention.
Muhammad Sayyed Tantawi, Sheikh of Al-Azhar and a prominent Sunni Muslim leader.
Joginder Singh Vedanti, Jathedar of the Akal Takht, the Sikh's highest authority.
Dr. Rowan Williams, Archbishop of Canterbury and leader of the Anglican Communion.
Posted Dec. 19, 2007