The 600-plus delegates to the 32nd Biennial Convention of the Lutheran Women's Missionary League, meeting June 21-24 in Sioux Falls, S.D., elected a new president to lead the organization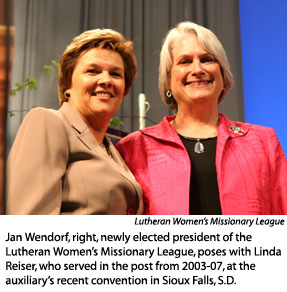 over the next four years — Janice (Jan) Wendorf of Grafton, Wis.
Addressing the convention during the closing service, Wendorf, 56, said she attended her first LWML convention in 1983, in Detroit, and accepted an invitation to begin serving as a local officer shortly afterward. She encouraged convention-goers to "be open to [LWML] service. If you feel that nudge of the Holy Spirit … be open to that call."
She also asked attendees to consider how they will use what they "have heard, seen, and experienced" at the convention to support God's mission in their own communities.
Posted July 3, 2007