By Joe Isenhower Jr.

ARLINGTON, Va. — Mention "the flame" and this city across the Potomac River from Washington, D.C., and most might assume you mean the Eternal Fla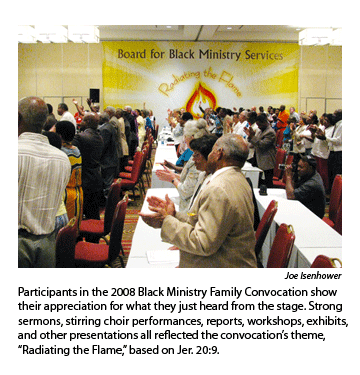 me at the grave of President John F. Kennedy in Arlington National Cemetery.

But the "eternal flame" on the minds of 377 Lutherans gathered here July 31-Aug. 3 for the 2008 LCMS Black Ministry Family Convocation was in their event's theme — "Radiating the Flame," taken from Jer. 20:9 — "… his word is in my heart like a flame."

Throughout the convocation, the theme's tie to the Synod's Ablaze! initiative to share the Gospel with 100 million unchurched or uncommitted people by 2017 was obvious.

Preachers for six convocation services, reports and resolutions, choirs including one with pastors only, seven workshops, separate youth components, exhibits with outreach themes, and comments of registrants — all addressed in some way radiating the flame of faith.

"I think that of all the convocations we've had in the past 30 years, this year's more consistently remained focused on its theme," said Dr. Phillip Campbell, executive director of the LCMS Board for Black Ministry Services, which sponsors the national convocations. "It was one of the best ones, if not the best."

Campbell told Reporter that other participants shared similar comments with him, particularly as he visited among guests at the banquet on the last night of the convocation, which was held at the Hyatt Regency Crystal City.

"This convocation was further proof that our people are committed and connected to Ablaze!," said Rev. Quentin Poulson, the board's director of Mission Networking. "We may convey it in ways that some would see as different, but the message is the same."

And Rev. Donald Anthony of Concord, N.C., the board's chairman, thanked those who came to the convocation "for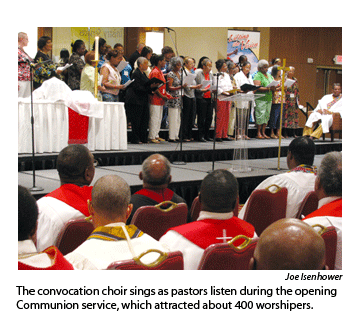 radiating the flame. … We are stronger when we are together."

"It is our hope that when you go home radiating the flame, it will be because of an internal inspiration," Rev. James Wiggins, pastor of Peace Lutheran Church, Washington, D.C. — the convocation's host congregation — said in welcoming participants. "Like Jeremiah, our hope is that there will be a fire inside you … in your bones … so that you'll be revitalized on the inside and you'll say, 'I'm ready to be engaged with the great work of spreading the Gospel.'"

Gilbert R. (Gil) Hill, a former Detroit police detective and city council member who appeared in two "Beverly Hills Cops" movies, issued the challenge in his keynote address for Lutherans and others to pass the flame of leadership on to younger people.

"While the sun may be setting on the Baby Boomer generation, there are bright flames on the horizon from young people," Hill said. "We need to guide them through inspiration and leadership, and then step aside. We only have a chance if we give them a chance."

LCMS First Vice President William Diekelman thanked convocation planners for "the great theme" as he delivered keynote remarks before fielding questions from the audience.

"We radiate the flame as we go about the business of proclaiming the Good News of Jesus Christ," Diekelman said.

He also quoted Dr. John Nunes, executive director of Lutheran World Relief, Baltimore, in saying "Our job in the church is not to change people to make them acceptable to God, but to find people for God to change."

At the convocation's opening worship service — and later in his executive report — Campbell challenged those in Black ministry in the Synod to "lift up a vision first … so that you can better see the radiating flame." He defined that vision as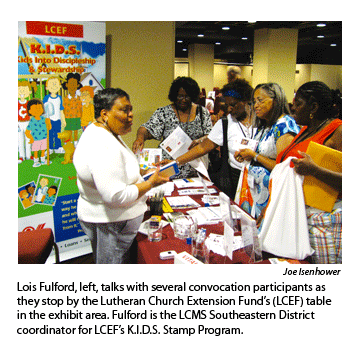 "the capacity to allow God to create within us dreams and plans for the future which will help others and bring glory to Himself. The key seems to lie in our ability to respond to His leadership."

In the report, Campbell stressed "what you as a member can do," which includes:
"being a prime mover in promoting the vision" through LCMS congregations, circuits, and district, as well as through district Black ministry units.
"lifting up" and promoting two resolutions adopted at the 2006 convocation — to witness to one million unchurched or uncommitted African Americans by 2017, and to raise $1 million in three years for Black ministry.
"publicizing the vision in church and district communications."
"praying for Black ministry and the vision."
Rev. Gregory Manning, pastor of Grace Lutheran Church, Kansas City, Kan., used the analogy of hot coals in a barbecue grill during his Friday sermon.

"Not all of them glow with the same heat at the same time," Manning said. "But my hope and prayer is that as you get hot [with faith], you'll pass that on to the one next to you."

Rev. Yohannes Mengsteab, national director of New Mission Field Development for LCMS World Mission, taught those at the Saturday morning worship service the word segum (promounced sey-GOOM), which is Eritrean for "keep on marching."

Originally from Eritrea, Mengsteab said in his sermon that the word describes the resolve and work ethic of his countrymen and symbolizes the 40-year wanderings of the Israelites before crossing the Jordan into their promised land.

"This convocation is not for baby Christians, but for mature Christians who have to grapple with hard questions, grasp God's truth, and lead the people like Moses and Aaron," Mengsteab said.

"If our light doesn't shine in the cities," he asked, "who is going to bring the light of Christ to those in darkness? I'll keep on marching, we will keep on marching, until every city has the light shining, until every person sees the light of Jesus Christ."

With John's account as his Saturday sermon text, Poulson compared faith sharing to the miracle of Jesus feeding the 5,000 f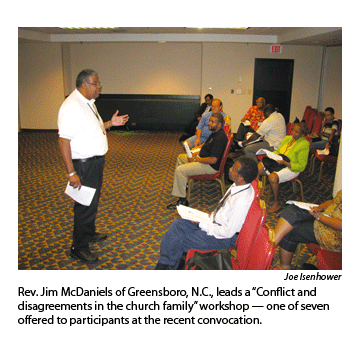 rom the young boy's five loaves and two fish.

He noted that this is "more than a story about meals in fields, but about multiplying faith. The Lord magnifies it."

"Sharing is required," Poulson said. "God radiates the flame of faith in us, and we radiate it to the world. What's in your lunch bag? God can use it