St. Louis-area viewers can tune in to their local NBC affiliate station — KSDK, NewsChannel 5 — at 8 p.m. Sept. 11 to watch a new half-hour documentary about Concordia Publishing House.
The program, "Concordia Publishing — It's Your House," paints a picture of the Christian publisher three ways: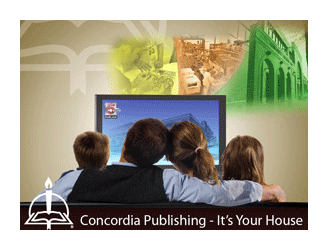 "A Company Story" explores CPH's nearly 140-year involvement in the St. Louis business and religious community through interviews with prominent Lutheran scholar Dr. Paul Maier, the Synod's second vice president, and local historian Dr. Robert Archibald of the Missouri History Museum.
"A Congregation's Story" shows how CPH helped Christ Lutheran Church in Chalmette, La., sponsor a vacation Bible school after the Hurricane Katrina-damaged church reopened earlier this year.
"A Personal Story" features discussion among CPH authors, editors, and staff about a new devotional resource for women, A New Song, and the importance of providing similar faith-based products to Christians.
"Concordia Publishing — It's Your House" will be available for viewing online later this month on the CPH Web site. To view a preview of the show, go to http://www.cph.org/cphstore/pages/resources/documentary.asp.
Posted Sept. 4, 2008