Concordia Publishing House is offering free shipping on its new vacation Bible school program Friendship Trek when ordered before March 15. English, Spanish,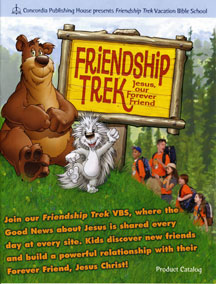 and bilingual programs also are available for summer 2008, plus a new VBS fundraising pack.
Now available are:
Friendship Trek, available only in English, which takes children on a hike through the Bible to "meet their forever friend, Jesus." A "Starter Kit" is available for $74.99 (item no. 32-0843VKC), and the "Super Value Kit" — with all "Starter Kit" items plus opening and closing leader pack, song-action DVD, puppet, clip art and song lyrics CDs, and more — is $174.99 (item no. 32-0841VKC). Free shipping is available on these items by using the promo code VSH.
Odiseas en el mar (Sea Odysseys), the Spanish and bilingual (Spanish/English) VBS program that introduces children to God's care and power using Bible-based stories that occur at sea. The program has four age levels and includes promotional materials, Spanish songs, and crafts. A leader's package is available for $49.99 in Spanish (item no. 16-6092HVR) or $54.99 in the bilingual version (item no. 16-6096HVR). Spanish lesson packs are $13.99 for five students, or $16.49 for bilingual lesson packs (item numbers vary according to age group).
Quest for Truth, last year's VBS program, is on sale for 2008. The starter kit (regularly $74.99) is available for $59.99 (item no. 32-0743WEB), and the "Super Value Adventure Kit" (regularly $169.99) is $149.99 (item no. 320741WEB).
A fundraising pack is new this year to help congregations raise money to hold a VBS. The pack has instructions for creating a "Collectible Corner" to sell VBS mementos and keepsakes, and includes posters, offering envelopes, and window clings. The pack is available for $29.99 (item no. 31-0812WEB).
For more information or to order any of the Spanish or bilingual VBS program materials, contact CPH at (877) 450-8694 for service in Spanish or (800) 325-3040 for service in English. Or, visit the Web site www.vbs.cph.org.
Prices quoted do not include shipping charges.
Posted Feb. 28, 2008