Concordia Publishing House, St. Louis, has reduced its staff and reorganized its departments in order to remain "fiscally healthy," according to CPH President and Chief Executive Officer Bruce G. Kintz.
CPH, the Synod's publisher, employs about 300 people. Twenty-eight employees accepted voluntary early retirement packages, described by the company as "robust and complete," that included severance and extended health care coverage. Another 13 positions were eliminated Dec. 5 — those employees also were offered severance, outplacement support, and health care benefits.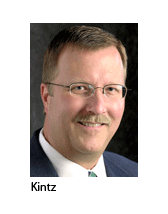 Kintz shared news of the layoffs with employees during a town hall meeting Dec. 5, and CPH issued a news release the same day. A letter to CPH customers from Kintz, also dated Dec. 5, is posted on the publisher's Web site at www.cph.org (under "Resources," click on "CPH News").
"The shift to a leaner team is a difficult, but necessary result of the economy," Kintz said in the news release. "As a not-for-profit that serves the LCMS, we must take responsible action to remain financially healthy as we serve the congregations that support us, but there is nothing more important to me than our employee-family."
The action was not taken lightly, he said. "Every CEO will say that these are difficult choices, but the truth for CPH, as a church-based company, is that our employees truly are a family. These decisions cut very deep."
In his letter to CPH customers, Kintz said the publisher "has certainly weathered its share of difficult economies" over its 140-year history. "We are blessed with decades of financially sound management. And we remain secure today," he writes. "However, as we strive to be the best stewards of the resources entrusted to us by congregations and individual customers, we recognized that action was required."
Kintz asked for "prayers and support" for CPH and for those who were affected by the layoffs, and pledged that the publisher will continue to serve the church "effectively, with innovation and drive, as always faithful to God's Word and our Lutheran identity."
In the press release, Kintz said that "CPH is driven to share the message of Jesus Christ with the world. We are passionate about that mission, and that dedication will not change even as we overcome times such as these."
Dec. 11, 2008