Concordia Publishing House, St. Louis, is taking orders for Lutheran Service Book: Guitar Chord Edition, a contemporary treatment of the complete hymnody of the Synod's most up-to-date hym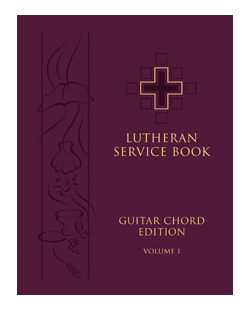 nal. The edition — which includes two volumes — may be ordered now, for shipping July 21.
The two-volume accompaniment edition provides the melody line and text, with chords included above the staff, for all 656 hymns in Lutheran Service Book. The hymnal, introduced to LCMS congregations in August 2006, has been adopted by more than 70 percent of the Synod's 6,000 congregations to date, according to CPH.
The publishing house says it expects a favorable response to the new Guitar Chord Edition, which was developed by Peter Reske, chief editor for Lutheran Service Book, and Dr. Kurt von Kampen, professor of music at Concordia University Nebraska, Seward, and a past member of the Synod's Commission on Worship.
"Based on a survey we completed in 2005, roughly one-third of LCMS congregations indicated they would purchase the resource in the first six months of its availability," said Reske. "We've taken pre-orders for more than 150 already."
The new edition isn't just for guitarists, Reske noted, but is designed as a lead sheet for any musician who plays by chord on instruments such as piano, keyboard, and bass.
"We've designed the book to be accessible," Reske said. "It brings the theological and musical riches of the hymns into a whole new arena."
Lutheran Service Book: Guitar Chord Edition (item no. 03-1175WEB) is available from CPH at the introductory price of $55, plus shipping, through Feb. 2, 2009. After that date, the price will be $65, plus shipping.
For more information, including audio music samples, visit the CPH Web site at www.cph.org (to search, use the keyword "guitar edition"). The product may be ordered online or by calling CPH at (800) 325-3040.
Posted July 17, 2008