Concordia Plan Services (CPS) is rewarding Concordia Health Plan (CHP) members who complete the online CareAllies Health Assessment between Sept. 1 and Dec. 31 with a $75 "Be Well … Serve Well" Rewards Visa Debit Card.
This new incentive is part of "a continuing effort to encourage healthier behavior among … members and in support of LCMS ministries," said Steve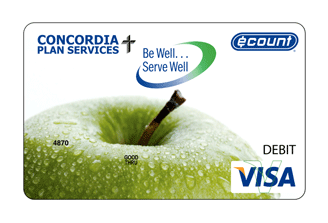 Gruenwald, CPS's health and wellness educator.
The offer is available to all members currently enrolled in the Concordia Health Plan (CHP), including Medicare members. Although covered dependents may take the assessment, they are not eligible for the card. CHP members who complete the online assessment can expect to receive the card within three to four weeks. It can be used anywhere Visa debit cards are accepted.
"We want our church workers to enjoy the benefits of good health," Gruenwald said. "We're happy to reward people for taking the initiative to understand their health, because that's the first step in maintaining it. Research shows incentives lead people to action and action leads people to better health."
To take the CareAllies Health Assessment, visit www.concordiaplans.org and look for the "Be Well … Serve Well Health Assessment" link at the bottom left side of the screen. Information about the Reward Card and other CareAllies programs can be found in the "Health and Wellness" section of the Web site.
Gruenwald stressed that CHP members must complete the Health Assessment in the period starting Sept. 1 through midnight Dec. 31, 2008, to qualify for the $75 "Be Well … Serve Well" Rewards Card. Any CHP member who completed the online assessment prior to Sept. 1, 2008, will need to retake the assessment in order to qualify for the card.
The Health Assessment consists mostly of multiple-choice questions regarding lifestyle habits and family history. Members will be asked to enter some basic physical indicators, such as height and weight. Having blood pressure and blood cholesterol numbers handy also is very helpful, but not mandatory for completing the assessment.
Gruenwald indicated that answering the questions usually takes 15-20 minutes. When complete, members instantly receive a wellness score and health profile with details describing what they're doing well, where they can improve, and whether they might be at risk for illnesses like heart disease, diabetes, or cancer.
"The health assessment is not a substitute for a physical exam," he said. "But it does help people focus on their health and the actions they can take to delay — or even prevent — disease. We hope this will complement the care our members receive from their doctors, and give them discussion starters for their next office visit."
The online Health Assessment is password-protected and will remain confidential in accordance with federal HIPAA privacy regulations. Individual results will not be shared with employers or other LCMS entities, including CPS, Gruenwald said.
He added that an assessment indicating a health concern (i.e., high blood pressure, high cholesterol, etc.) triggers a confidential, personal contact, either by phone or by mail, from a CareAllies Health Advisor. The Health Advisor is a medical professional who can offer information about disease prevention, condition management, and lifestyle modification.
In addition, the Advisor helps individuals set personal wellness goals and provides information and encouragement for achieving them. Participation is voluntary and confidential.
"Studies show a little coaching can make a positive and lasting impact on a person's health," Gruenwald said. "Through our Health Advisor program, we hope to help people make healthy changes that will benefit them for life."
Posted Sept. 4, 2008