By Paula Schlueter Ross
The Web site "counter" for the Synod's worldwide Ablaze! faith-sharing movement got a big boost in September as 183,203 was added to "the number of unreached or uncommitted people with whom the Gospel has been shared and reported," bringing the total to 9,356,501 as this Reporter went to press.
The goal of Ablaze! — which involves the LCMS and its partner-church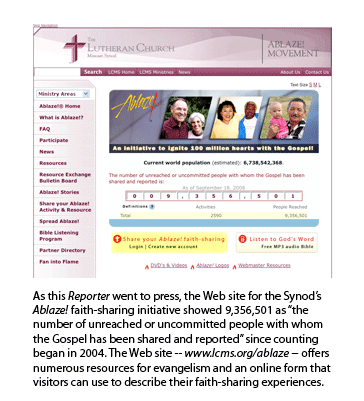 denominations — is to share the Gospel with 100 million "unreached or uncommitted" people by 2017, the 500th anniversary of the Reformation.
The additional faith-sharing events added to the counter were taken from statistics provided by LCMS elementary schools from 2004-05, 2005-06, 2006-07, and 2007-08, and represent the number of students who were not affiliated with any specific Christian church, according to Terry Schmidt, the Synod's associate director of School Ministry with District and Congregational Services.
"Teachers and students in our schools boldly shared their faith with those students," according to Schmidt, so it's appropriate to add that figure to the Ablaze! counter, he said.
"Faith-sharing events occur in Lutheran schools every day," he said, adding that 17 percent of students at LCMS elementary schools are not members of Christian churches, and for many, Lutheran schools provide their "first exposure to Jesus."
In fact, during those four years 14,661 students at LCMS schools were baptized, according to Schmidt.
Acknowledging that LCMS schools are "key partners in the LCMS Ablaze! outreach process" as they "exist and operate on the front line of the North American mission field," Schmidt said the Synod's School Ministry department regularly encourages teachers, staff, and students to share their faith with others. That encouragement, he said, is given through regular communications pieces, conferences, and staff speaking engagements.
Among its publications is Lutheran Schools Ablaze!, a free, monthly publication of LCMS School Ministry that features stories about schools' mission efforts. The next issue, available in November, will focus on Christ Lutheran School in East Point, Ga., a "great example of a school that's using its ministry to reach its community," according to Schmidt.
Lutheran Schools Ablaze! is available to LCMS schools, along with other resources, through a Web-based "portal" that requires online registration. For information, visit the School Ministry Web site at www.lcms.org/?1694.
Debuting this fall is the Ablaze! Bible Listening Program for Lutheran Schools, one of numerous free Ablaze! resources available online from LCMS World Mission. The program will bring Bible stories to students in Grades 1 through 8 — in classrooms and at home — via CD, DVD, and MP3 digital audio. It includes discussion guides, prayers, and encouragement to share the recordings with family and friends.
Elementary schools must register online at www.lcms.org/?13394 to take part in the Bible Listening Program. So far, more than 100 of the Synod's 1,000 elementary schools have registered, according to Schmidt.
Another Ablaze! resource that's currently in production for schools is a poster on which classes can record students' names and the number of times each has shared his or her faith with others during the week. Beginning with the 2009-10 school year, those figures will be requested on the annual statistical report from each school, Schmidt said.
To be successful, Schmidt said, Lutheran schools must do two things:
"strive to be the very best they can be in every undertaking," and
"share their Christian faith with others — that's what sets us apart."
Unfortunately, "not every LCMS school is maximizing the opportunity for outreach to its community," he said.
But, thanks to its partnership with LCMS World Mission, which is providing Ablaze!-related resources specifically designed for schools, Schmidt believes the Synod's School Ministry division can encourage every school to be more "intentional about reaching out," welcoming non-Christians to the school and to its sponsoring congregation.
"We want to change the culture of The Lutheran Church–Missouri Synod," explains Rev. Scott Snow, director of national outreach with LCMS World Mission. "One of the ways to do that is to start with the smallest children and help them see faith sharing as an everyday part of Christian living."
Moreover, the Synod's mission arm "wants to provide schools and teachers and students with the tools they need to effectively share their faith," says Snow.
Schools, he says, have "wonderful opportunities" to bring unchurched children and families to Christ — first, by sharing the Gospel, then, by connecting them to the congregation that operates the school.
For more information about Ablaze!, visit www.lcms.org/ablaze.
Posted Oct. 2, 2008