Free horse-drawn wagon rides and demonstrations of pioneer skills such as blacksmithing, butter-churning, and broom- and rope-making were part of the March 1 opening-day festivities at the Saxon Lutheran Memorial in Frohna, Mo.
The memorial, owned and operated by the Concordia Historical Institut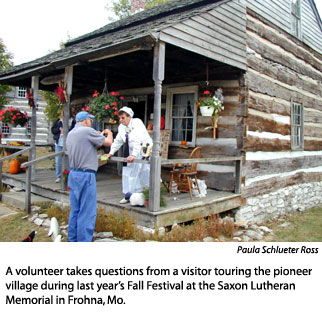 e — the Synod's Department of Archives and History — is a "living history museum" of life in the 1800s and commemorates the 1839 arrival of more than 600 Saxon immigrants who left Germany for religious freedom in the United States.
The Lutheran Church–Missouri Synod traces its origin to those immigrants, who settled in Frohna and other sites in Perry County, Missouri. The area is a little more than an hour's drive south of St. Louis.
The Saxon Lutheran Memorial features free tours of a 15-building pioneer "village" that includes the original log cabin of Saxon brothers Wilhelm and Christian Adolf Bergt, a museum, and a gift shop with locally-made craft and food items.
The Memorial is open March 1 through Nov. 30. Hours of operation are 9 a.m. to 5 p.m. Tuesdays through Saturdays, and 1 to 4 p.m. Sundays. It is closed Mondays.
Special events for 2008 include:
May 11 — a visit by nearly three dozen World War II veterans.
May 26 — opening day for a new, on-site picnic area and primitive campground.
Sept. 5 — a display of more than 100 vintage cars.
Oct. 28 — the 28th annual Fall Festival, with tours, demonstrations, music, contests, and crafts.
Curator Lynda Lorenz says the memorial is open to individuals and groups of all sizes — from families to busloads — and home-cooked meals can be provided with advance scheduling.
Lorenz said she and the memorial's volunteers look forward to sharing "the wonderful, rich history of the Saxon immigrants from Germany, as they made a new life for themselves and their families in order to worship God freely.
"It's a beautiful story of hardship, perseverance, determination, devout faith, and discovery — come see for yourself."
For more information, contact Lorenz at (573) 824-5404 or slmlynda@core.com. Or, visit the memorial's Web site at www.saxonlutheranmemorial.com.
Posted Feb. 20, 2008